We all know that a trip to the hairdressers is meant to be a positive thing!
You know, when our hair has started to resemble a bird's nest and has real-life organisms living in it? It's nice to just bite the bullet and head to our local hair cuttery, sit in a chair and realise how truly ugly we've become and walk out with a haircut that is NOTHING like what we asked for…
Always happens…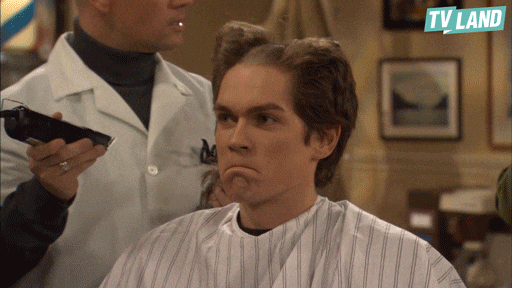 Yep, the Hairdressers may masquerade as being a good thing and we may get excited at the prospect of a new 'do', but like most things in life, it never turns out the way you expect it to.
However (& this is a BIG however), it seems that some people on this earth would actually PREFER a horrendous, shocking, thigh-slappingly bad haircut!
Why? I hear you ask? Well, why anything? & I'm sure you'll be questioning everything anyway, after witnessing the following traumatizing collection of pictures that document some of the worst 'hair-raising' disasters!
You've been warned!
1. The Mullet, but with extras…need I say more!?
Just when you thought that the slightly odd, outcasted, psychopathic child of the haircut world couldn't get any worse! It gets oh so much worse…. these are even an insult to the actual Mullet, they're that bad! My eyes are totally offended, right now!
2. Gross vs TOO MUCH
How bad does your hair have to get until it gets to the state on the left!? I think I can smell it from here! *urgh* & How big of a kn*b do you have to be, to get the one on the right!? They both should be as equally ashamed of themselves for abusing their hair like that!
3. Germany, U OK HUN!?
I think Germany needs to take a long hard look at itself right now.
I don't know, maybe they just do things a little differently in Germany!? Actually no, scratch that…A LOT differently!
& I think the German Rapunzel has just papped on the right, either that or it's the goddess of heavy metal!
4. You've met the Mullet…
You've been suitably traumatised by the Mullet for years…well, now meet it's horrendous, plate scrapingly cringeworthy little brother! The 'Skullet!' Not quite a bare skull, not quite the Mullet. Excuse me for a minute, I just need to go and be sick a little bit.
5. The world of hair needs your help!
What on earth is happening, people!? My god! The top left looks like he's carrying some kind of beehive on the back of his head! I.AM. HORRIFIED. & Someone should tell the guy on the right that yes, we do know that's he's bald, he's not fooling us with his tufty spikes!
6. When I grow up…
I thought we were telling parents these days to always try &  'raise them right!' PLEASE DO NOT put ideas of Mullets into young kids…or else they end up like the guy on the right! A mulleted früher!
7. Don't hold back, will you!?
I think I need to phone my therapist, there's just too much *gag* in one picture for my liking here! I'm just so, so grateful that the picture on the right stopped below the navel. Thank you, god!
8. Errrrrm…
Seriously, did she not have any family or friends around her at the time, who loved her enough to go, 'Look, Carol, you just can't go on TV like that!' Obviously not! Frankly, they should be ashamed of themselves!
9. The Glamour Mullet
The effect of these glamour shots is the only thing saving this mad mulleted duo! To be honest, they both look way too young to be inflicting these hairstyles on the public…. and themselves for that matter! Someone needs to have a firm word with their parents… I call child abuse!
10. Bowl Jobs Anonymous
This looks like it could be one of the WORST album covers that you'd ever see in your life! I'm guessing the first track on the album would be titled 'Jesus isn't my friend anymore!'
11. Don't go chasing waterfalls
Just stick to the horrible mullets and suit combos that you're used to! (Somehow, I don't think those lyrics would have caught on as much!)
12. I need answers…
Come on, WHO doesn't want to know the backstory to this picture!? Unless you're just too distracted by the guy's terrifically terrifying haircut, you're going to have some serious questions about what's actually going on here! Hopefully, it's just some sacrifice to Satan to finally get a decent haircut!
13. Oh dear!
Oh dear, oh dear…come on guys, who hurt you so badly that you had to go out and commit such an atrocity to your heads!? Because believe me, she ain't worth it, dudes!
14. Save the child!
Well, at least the kid looks fine…for now! Well, I guess if you can't be a good example, you'll just have to be a terrible warning!
15. What am I SEEING!?
I'm sorry, but my brain just can't quite compute EITHER of these "hairstyles!" The one on the right is making me want to vom up in my mouth, and I think the guy on the left has PAINTED his hair on! My eyes are weeping! #sendhelp
16. The terrible trio!
Imagine having the choice between death or having to choose one of these three haircuts for yourself!? I'd take death, thanks!
17. Mind if I…comb over!?
Yes, I do mind actually, I mind very much!
Bad puns aside, I have to say that I am completely done and over it now…not even a particularly good pun can save this lot, they're doomed! See ya, I'm out! *door slam* *car screech*