Lady Gaga first worked her way into our ears in 2008, when she released 'Just Dance.' We instantly took to this whacky figure and her synth-pop vocals.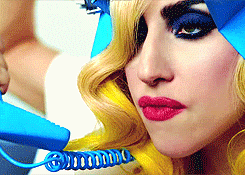 Gaga rocketed into the limelight and has stayed there ever since, due to a combination of big hits, whacky costumes and outlandish personality.
Let's take a closer look at some things you might not have known about Gaga…
15. She's Obviously Not Called 'Lady Gaga'
Her real name is Stefani Joanne Angelina Germanotta. She was born on March 28th, 1986 at the Lenox Hill Hospital in Manhatten. Her parents are Cynthia Louise and Joseph Germanotta.
14. She Dropped Out Of Uni To Pursue Music
Gaga dropped out of New York University to follow her dream of becoming a singer. She said of her passion for music: "I don't have the same priorities as other people, I just don't. I like doing this all the time. It's my passion. When I'm not doing a show, I'm writing a song, or I'm on the phone with Dada yapping about a hemline."
13. She's Co-Written A Load Of Songs
Lady Gaga has co-written quite a few songs that you probably didn't know about. These include "Quicksand" for Britney Spears, "Full Service" by New Kids on the Block and "Hypnotico" for Jennifer Lopez.
12. Her Meat Dress Weighed 50 Pounds
Gaga infamously appeared to the 2010 VMAs wearing a dress entirely made of meat. Altogether, it weighed 50 pounds and was made of cheap cuts of meat. Gross.
11. "Telephone" Was Written For Britney Spears
The song "Telephone," one of Gaga's most memorable, was originally written for Britney Spears and was meant for her Circus album. When it was dropped, Gaga reworked it for herself and featured Beyonce on the track.
It's one of the biggest collaborations of all time.
10. One Of Her First Photoshoots Was By A Waitress
In 2005, 24-year-old Polish waitress named Malgorzata Saniewska was working at the same West Village as 19-year-old Gaga, who was working at a bartender.
Saniewska had dreamed of becoming a photographer and found Germanotta more than willing to be photographed.
"We were colleagues, we didn't hang out really heavily, but she's the nicest girl ever… She's down-to-earth," Saniewska told CNN, "At that time, she gave me a CD of her first single, and I listened to it and I was really impressed. And she's a beautiful girl… I offered her the photo shoot, and she said yes right away."
9. She Used To Be A Go-Go Dancer
When she dropped out of school, Gaga went full-on wild-child. She moved to the Lower East Side, experimented with drugs and worked as a go-go dancer.
"My father couldn't look at me for months," she revealed to The Telegraph, "It represented freedom to me. I went to a Catholic school, but it was on the New York underground that I found myself."
8. She Was Dropped From Her First Record Label
Gaga worked hard in the New York underground club scene, and her big break finally came when she was signed to the hip-hop label Def Jam in 2005 at only 19 years old.
In the following months, her music started to drastically chance and took on more of the synth-pop style that would define her first few albums. This led to Def Jam to drop her.
7. All Of Her Tattoos Are On The Left-Hand Side of Her Body
Gaga only has tattoos on the left-hand side of her body. The reason for this is because her father requested that she keep at least one side of her clean.
6. She Attended The Same, Upscale Catholic School as Paris and Nicky Hilton
Located in Manhatten, the Covent of the Sacred Heart was home to a few famous faces. Gaga hated the school and said that she never fit in.
5. She Learned To Play The Piano From A Young Age
Gaga learned to play the piano when she was only four years old and started writing original songs and ballads when she was just 13. When I was thirteen I was running around making dens.
4. "Just Dance" Was Written In A Short Amount of Time
It only took Gaga ten minutes to pen "Just Dance" and she wrote it whilst she was super, super hungover. It turned out to be Gaga's first massive hit.
3. She Toured With New Kids On The Block
Gaga's first major tour was was with New Kids on the Block. This seems like a rather interesting mix of music tastes in our opinion.
2. Her First Fragrance Pushed Boundaries
Gaga wanted a perfume that would look black in the bottle but would be clear when sprayed. Nothing like this had been done before. Eventually a team worked it out and she paved the way for other perfumes to do the same thing.
1. There's A Reason She Performs So Scantily Clad
It's so her grandma can see her! Makes sense right?
"My grandmother is basically blind, but she can make out the lighter parts, like my skin and hair. She says, 'I can see you, because you have no pants on.' So I'll continue to wear no pants so that my grandma can see me," she said.
I mean, if my Nan was watching me on stage, I'd want to be in as many clothes as possible.