She's the face of our morning routine, with the nations favourite daughter fronting the hit ITV breakfast show This Morning along with Phillip Schofield. The pair are also due to be on our screens more this year, after the launch of Dancing on Ice 2018! She is also due to launch her own lifestyle brand, Truly, which will be released in the Autumn.
*
It's not just her second to none presenting skills that keep Holly in the public's eye. She has a tremendous sense of style, and she's always incredibly relatable to the general public.
With all the controversy of equal pay, in August of 2017, it was reported that Willoughby had received a £200,000 pay rise to match the salary of Philip Schofield! This is only right, and we fully support it!
*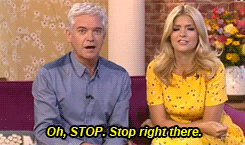 As well as This Morning, Willoughby presented the new and revamped series of Dancing in Ice with Schofield in January of 2018. But despite being on our screens so much, including in Celebrity Juice,  The One Show, 8 Out of 10 Cats etc, how much do you know about the hostess with the most-ess?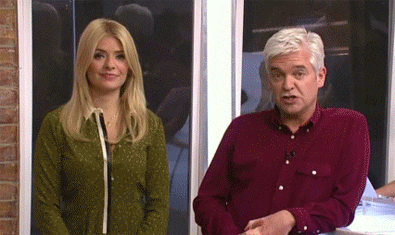 Here are some facts about the nations favourite TV personality.
*
1. She Is One Of The Highest Paid TV Presenter In The UK
On the list of highest paid TV presenters in the UK, Holly Willoughby sits in a cool 8th place. Alongside co-hosting This Morning and presenting Surprise, Surprise, Play the the Whistle and regular appearances on Celebrity Juice, she is thought to earn around £1 million a year. This is along with her partnership deals including a Home Furnishing line. And and Dec top the list, earning £29.5 million between them.
*
2. She Got An Unwanted Surprise When She Joined Up For Snapchat
Holly recently joined Snapchat and received thousands of filthy messages. She posted to her seven million followers "So I've just joined Snapchat!!! Come find me…. Trulyholly xxxx" but instead, she received a load of images of mens genitals. If you don't have her now, you might as well add her: Trulyholly
*
3. She Doesn't Like Exercising
Did you know Holly hates exercise? Although she has a curvy bod, what many women dream about having, Holly admitted she doesn't do much to maintain her shape. She tries to eat healthily instead of exercising. Keith Lemon did once reveal that some of her weight-loss was due to some sort of boxing classes at the gym!
*
4. She Was Bullied At School
Did you know Holly got bullied in school due to her having a flat chest? At school she was known as "Flat-Chested Willoughby".. How times have changed! An appearance as hosting Dancing On Ice last year left some fans wondering if the host had actually had a breast reduction. On social media during the show, one fan wrote: "Where have Holly's boobs gone?!?" Don't worry fella, they're still there! Perhaps you should be more concerned about important things like climate change!
*
5. She Wears New Shoes During Sex
Willoughby loves wearing high heels. She once admitted "I love wearing new shoes during sex and not just because its kinky… I do enjoy saucy games with my hubby bu I have found the best way to break in new shoes is to wear them during sex." Saucy! I was told you should never wear shoes in bed.
*
6. She Loves a Good Party
Holly's partying days and going out clubbing aren't totally behind her.. Holly famously pulled an all night with TV partner Phillip Schofield after they won big at the NTA's back in 2015. They then turned up to the studio the morning after in the same clothes and presented This Morning. Rebels, but it was one of the greatest TV moments of recent years!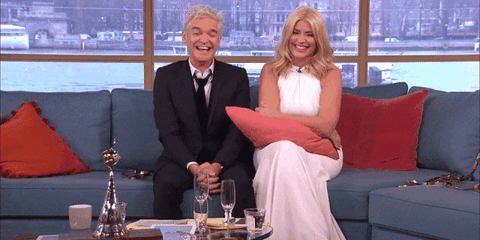 *
7. She Was Born In Brighton, And Her Middle Name Is Marie
Holly was born in Brighton on the 10th February 1981. She was however to relocate to Sussex, where she attended Burgess Hill Girls school. Her middle name is Marie. Her full name of Holly Marie Willoughby really rolls of the tongue doesn't it? I think it helps that all of her name end in an 'ee' sound.
*
8. Her Career Is A World Away From Her Parent's
Holly has one of the most glamorous careers available, but its a far cry away from her parents career paths. Her father ran his own double glazing company, while her mother was an air stewardess. Back in 2004, Holly Willoughby took over presenting The Xtra Factor (2004) from Fearne Cotton in 2008. Fearne Cotton is her best friend.
*
9. She Had a Phobia Of Flying
Holly has a fear of flying. She disclosed back in 2006 that taking part in the show "Fear Of Flying", had led her to becoming extremely anxious about taking to the skies. Remarkably though, notorious therapists, the Speakman's, appeared on the show and managed to break down the true reasoning as to why Holly felt that way, and even reportedly cured her!
*
10. She Has An Older Sister
Holly also has a sister, who has also worked in the television industry too! Older sister Kelly worked in film and TV production. In later life, she took the role of personal assistant to Eamonn Holmes, to allow her to focus on fulfilling her dreams of becoming an author. We're not sure why following Eamonn Holmes would help with that.
*
11. She Broke Into The Career At A Young Age
Holly's break into showbiz came at the age of just 14, at the 1995 Clothes Show Live. She was spotted amongst the crowds, where a photographer encouraged her to visit the "Storm" stand, a renowned model agency. Holly did just that, and in doing so set herself up to have the fantastic career she has to date. She pursued a career in modelling from a young age, even becoming an underwear model at the age of just 17.
*
12. She's a Married Woman
She married in 2007 to Dan Baldwin. Dan is a TV producer, with the couple meeting whilst both working on the CITV show Ministry of Mayhem. Holly has actually admitted that she actually didn't fancy to start off with. "At first, I didn't fancy Dan at all, I didn't even think about it." It does kinda help to fancy someone first.
*
13. She Has Three Children 
Willoughby and Dan have three children together. Harry, Belle, and Chester. The 37 year old likes to keep her personal life rather private, she does however give us the occasional insight into her world. She has made it clear that she does not plan to have anymore children, however she has recently revealed she does miss being pregnant.
*
14. She Loves Cats (But Then Again, Who Doesn't?) 
She loves her cats. In October 2016 Holly was anguished to learn of the passing of her cat Roxy. She's since taken on two more feline friends in Teddy & Bluebell into the family. She announced the news on This Morning, saying: "Please welcome the new members of the Willoughby family – Teddy and Bluebell… Named by my children I might add, but I was quite happy with those names. I thought they did quite well when you think what it could have been."
*
15. She Suffers From Dyslexia 
Holly has shared that she suffers from dyslexia, and only made the admission after trolls criticised her spelling on Twitter. "Thank you for flagging up my spelling. I am dyslexic and don't have time to spell check everything. You may just have to overlook it …" Why do people feel the need to criticise other people on social media? Vile people.
*
16. She Was On The Last Ever Cover of FHM
Holly was on the cover of the last ever FHM magazine. She has graced the covers of this iconic publication a lot over the years, and claims that the lads mag holds a special place in her heart. "We've both grown up together – I've had 3 children and you've had 314 issues but now, with a heavy heart, it's time to bid you a fond farewell," she explained. She appeared in every single FHM's 100 Sexiest Women from 2005 to when the magazine ceased circulation.
*
17. She Is A Body-Positive Role Model
Holly is a fantastic body-positive role model. Despite scathing attacks labelling her fat over the years, she's always kept her curves. Speaking about her body following the birth of her children, she told Lorraine ""I see my body very differently to how it was when I was younger. My body gave me my three children."
*
18. She Used To Be A Receptionist
Before making the big time, Holly was a receptionist. Besides her dream of achieving fame through the medium of television, Holly desired to go to university to study psychology. "I know that sounds slightly bonkers now but that was my plan, which is quite far away from where I am now." We're glad she chose her current career.
*
19. She Made Her Big Break in Children's Television
Holly was the face of many peoples childhoods. Growing up in the naughties, you will have no doubt seen a lot of Holly on your screens. Alongside Fearne Cotton, she was the main face of CBBC and CITV. She dominated Saturday morning television, fronting Ministry of Mayhem with magician Stephen Mulhern.
20. If She Could Take One Item to A Dessert Island, She Would Choose…
Holly has revealed that if she was left stranded on a dessert island, her luxury item would be Phillip Schofield. Apparently though it's not just his thoroughly entertaining personality that would lead her to turn to her co-star in such a situation, he's actually quite the woodsman.
"You wouldn't expect it to look at him, but in a life-threatening situation you should always turn to Phillip Schofield.
"On a desert island he would be perfect. Phil is very practical and would build you an amazing shack as well as keep you entertained with all his hundreds of stories."
*
21. She Used To Go Straight From The Bar To Work
Holly was quite the wild child.
"There were times when we went straight from the hotel bar to going live on air at 6am.
"It doesn't help when you read the script and find you've got to drink anchovies in custard with some 8-year-old. That day I was sick live on TV."
Her party days aren't exactly all behind her either. Holly famously presented an episode of This Morning, with telly husband Phillip Schofield, after not being home following her NTA win the previous night. They later apologised for their actions, but it has become one of the most iconic moments on modern television.
*
22. She's A Great Cook 
She's not just a pretty face, she's mean in the kitchen as well. After standing every morning observing guest chefs whip up a storm in the Good Morning kitchen, it's apparent that it may have somewhat rubbed off on Willoughby. Holly regularly has the fam round for a good old traditional roast dinner, and loves every minute of it .
"I love cooking and having people over and it means you don't have to get a babysitter.
"To be honest if given the choice, I'd rather everyone come to us."
*
23. She's An Author
She's also a bestselling author. Having published 3 books, one co authored with best friend Ferne Cotton named "The Best Friends Guide To Life", a fiction series called "School For Stars" and self help guide "Truly Happy Baby…It Worked For Me" . She's worked with sister Kelly, who she has described as a "brilliant writer and one of the best mothers and most together people I know"
*
25. She's Once Dated A Cowboy
Before meeting and eventually marrying Dan, Holly has said that her worst date ever was with a guy who was a cowboy for a living. In an interview, she said:  "It was my worst date as I'd met him on a plane when he was wearing normal clothes and looked gorgeous. There was no sign of a cowboy connection and I was very excited about seeing him again. When we met later at a restaurant he was wearing all the gear. I thought about turning round and doing a runner but I have good manners. I couldn't go out with a cowboy because I don't own any cowgirl outfits. At least he didn't have the horse tied up outside."
*
26. She Had To Wear A Head Brace As A Teen 
As a teenager, Holly had to wear a head brace, and at one point, both of her legs were in plaster for a time because she had short tendons! Ouch, that sounds incredibly painful. In 2004, she returned to work after only 3 months after giving birth to her son Harry to begin presenting the 6th series of The Xtra Factor.