In a nation of animal lovers, our pets mean the world to us! They do so much for us and only ask for a little head scratch or tummy rub in return!
We can't argue with that, can we?

And along with cats, I think we can say that Dogs are some of our favorite furry friends! They're loyal, friendly, cute and always happy to see you!
(Who needs a boyfriend, eh?)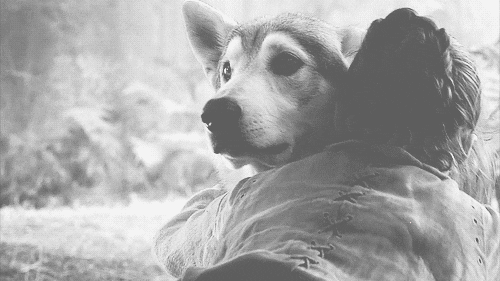 Dogs are certainly man (and woman's) best friend!
BUT, not only are they all that life fulfilling, baby substituting awesomeness, but they can also be pretty darn funny!
Don't believe me? Well, check out the following 20 tweets and see if you don't laugh…if you don't laugh at LEAST ONCE, then you're probably dead inside! #justsayin
Enjoy!
1. My stick gives me super powers!
Wow, what a good boy for finding such a magical wand of awesomeness…pretty sure he won't be bringing it into the house though!
2. The Greatest Show Dog!
I don't think he's JUST the greatest sheepdog in the world, I think he could just be one of the greatest DOGS in the world! Don't you think?
3. & That day…. a new superhero was born!

Who knew that trampolines could turn little doggos into superheroes/pokemons!? You better watch out, Electra Doggo has you in her sights! I don't know if I'm scared or cuted-out!
4. I brought you a new water feature!

What!? You don't like it!? But I bought it for yooooou! Oh well, I'm enjoying it…
wow, you look wet, do you need a towel?
5. Whoa there, boy!

No, no, officer, I'm pretty sure he was really just trying to HELP my sister…it's ok, no, she's conscious again now, so it's all good. Oh well, still a good boy…. even if a little homicidal.
6. I've created a monster!

What IS that….THING!? Oh my word, who knew that the iPhone camea could turn our dogs into such weird creatures!? Be careful what you point that camera at… you never know what it might turn into!
7. He wait!

FOR THE LOVE OF GOD, LET HIM IN THE CAFE, YOU MONSTER!!! I'm crying here!
8. Take Your Dog To Work Day!

Well, this doggo seems to be adapting to office life pretty quickly! How could you even raise your voice to this good boy!? He's got all the sass!
9. Thousands of Uses!

So, not only are our dogs our protectors, therapists & life coaches…but they're also pretty good for taking measurements! Is there nothing our good boys can't do!?
10. Love looks not with the eyes!

Best friends come in all shapes and sizes…even man's best friend needs a bestie…and if that happens to be a brick, then what's the problem!? Let doggo grow old with whom he wants!
11. Medieval Monk Doggo!

I have to say, that dog has one STRANGE looking body…maybe she is from a different time altogether!? Either way, it just makes her more special!
12. The Good Kind of Satanism

Even Satanism of the Dog kind looks like something I could get behind! Hope they managed it!
13. Just no….

I don't know who I'm more devastated for…the Dog or the owner! I would have literally had a melt down if someone had done this to my fluffy baby!
& I don't think he really said that, did he Mom!?
What a nightmare!
14. The cutest getaway driver, ever!

So many questions here, why is he in the car!? He is ACTUALLY DRIVING IT!? Whose Sandra!? I think I definitely need to find her and get some answers!! I NEED TO KNOW!!!
15. Of COURSE we want the dog in the pic!

Why not, indeed!? The result being, revealing the most party hard, cool Mr. Dogster in the land! Love it!
16. Brother from another Mother!

Who says that cats and dogs can't get along!? That's certainly not the case with this cute pair! They're almost twins!
17. HE MONCH BUTT, 1602
He MONCH BUTT good! This is one of the lesser known renaissance paintings, but I think you'll agree that it's certainly one of the best! I don't know much about art, but I know what I like….
18. #relatable

I am actually feeling this on a spiritual level. No happy medium were my moods and attention are concerned, it's either give me ALL THE HUGS or GET THE HECK AWAY FROM ME!!!
Who knew that dogs could even portray our feelings so accurately!? Proof that they're pretty much GODS.
19. Errrrr, I'll have….the….battered sausage and mushy peas….no, make it chips and curry sauce!

I thought to myself 'I'll have to actually STOP LAUGHING my head off, before I even attempt to try and think of a caption for this one….'
Safe to say, I didn't manage it…
20. You've been out petting other Dogs, haven't you!?
Just the "Gym" and "The Store", eh? Well, I don't believe you….is that another Dog's scent on your collar!? Don't try to lie to me!? I don't even want to look at you…leave the dog food and get out!
I think even the most self confessed cat person couldn't resist these lovely Doggos! Who knew that they could be so hecking funny!?