When you think of 'Disney', what springs to mind? No doubt magical enchantment, princesses' and wonderment abound in your mind!? Walt Disney films have been a source of magic for children for generations…and rightly so! I know I certainly had a HUGE collection of them on VHS when I was younger (showing my age, there!)  and I was never bored of the utter charm and delight they brought me on every single watch!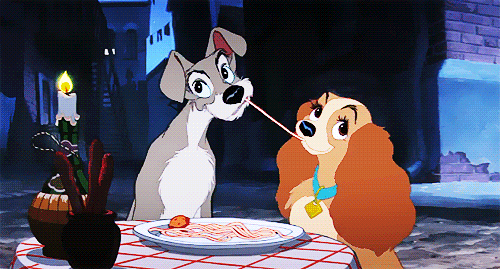 But what about the theme park? Disney World? Maybe such wonderful things wouldn't spring to your mind when that's mentioned, however, you can't always believe the negative press! I mean, they're not exactly known for their honesty, are they!?
But nonetheless, Disney World has been the subject of negative reviews in the past, but that doesn't mean that it's a bad place, I mean everywhere has its faults, right?! Even the magical Disney World.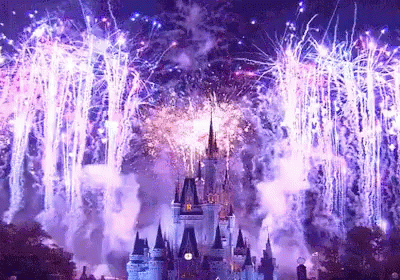 So, in their defence, we thought we'd bring you some evidence of some of their employee's, who are truly going above and beyond for the people visiting and spending their hard earned cash!
They may not be the magical, 'real' characters that they're portraying, but as you will soon see, they're certainly acting like it!
1. Peter Pan is #magicalgoals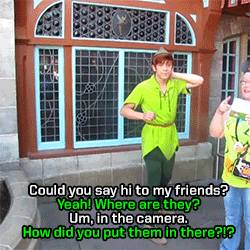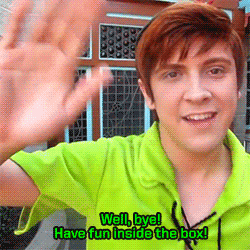 This is such an amazing, whimsical reaction! Are you sure that this isn't the real Peter Pan!? Because I'm pretty convinced, right now!
2. They really are magical!
disneyland really is the most magical place on earth…. Minnie realized that this little boy was deaf and communicated with him in ASL 😭💞 pic.twitter.com/PaIXvgjKhL

— Kyle Edwards (@KyleEdwards) June 21, 2018
You know when you're in the most magical place on earth when Minnie the Mouse actually knows sign language and uses it to speak to a deaf child! How amazed must that kid have been!?
3. Well, I guess he doesn't need teaching about self-confidence



Well, he is a prince, after all! To be honest, this has totally cracked me up, it gives off the most perfect mental image! This is method acting at it's finest here!
4. DAMN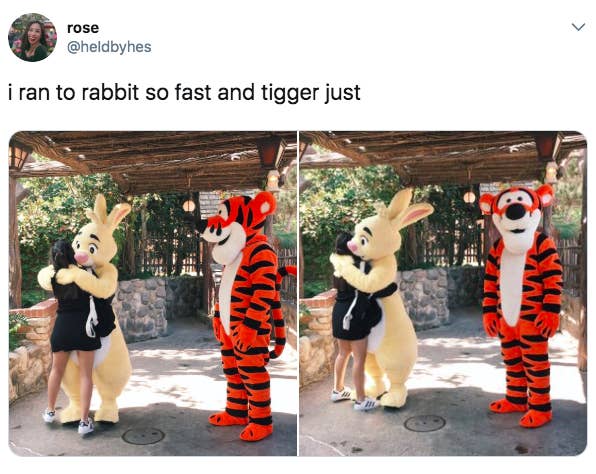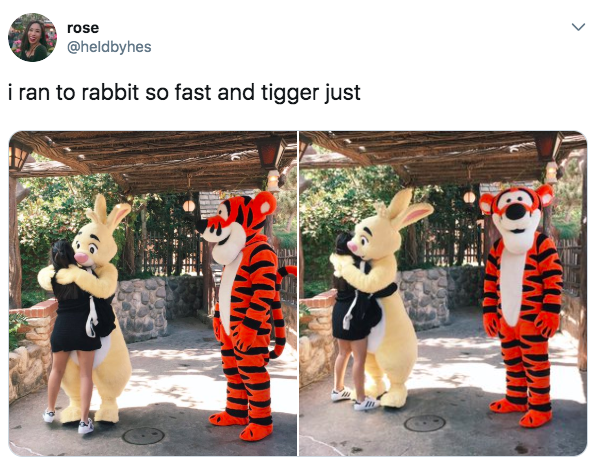 Oh my god, that look of rejection on poor Tigger's face is just priceless! Don't worry, Tigger, if I ever find myself in Disney Land then I'll make sure that I hug you first! I promise!
5. There's TWO of me!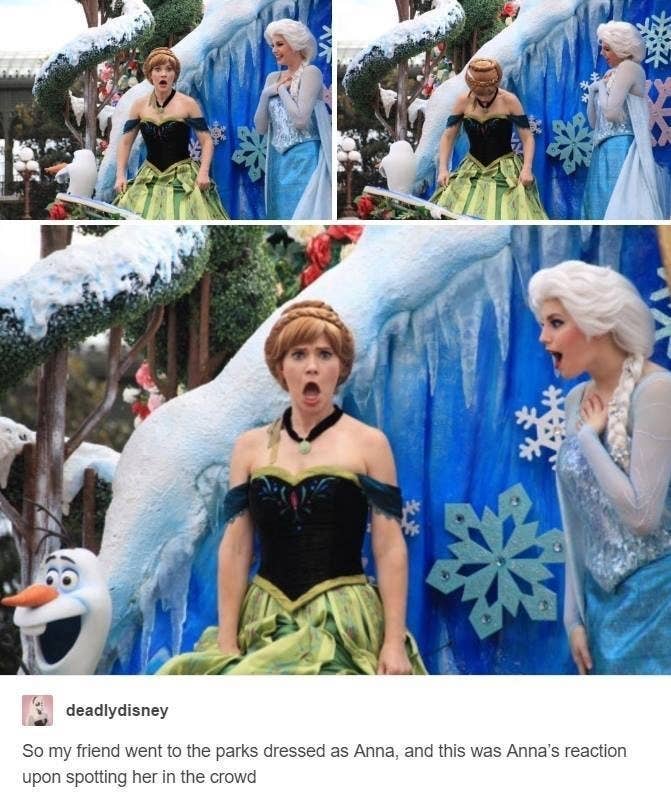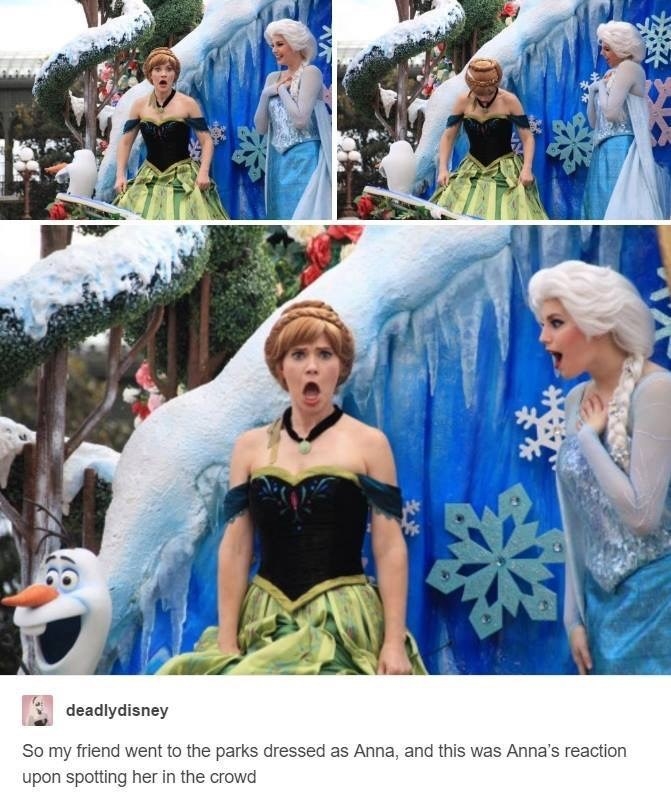 Well, if this isn't the most perfect reaction, then I don't know what is! She's totally in character and it's a totally magical moment! My heart can't deal with it!
6. It's a good job that Minnie has a sense of humour!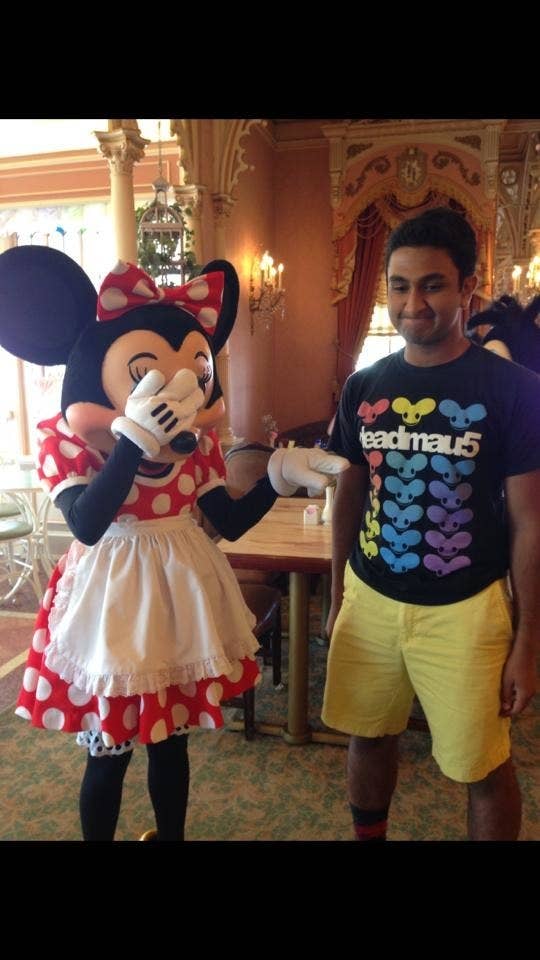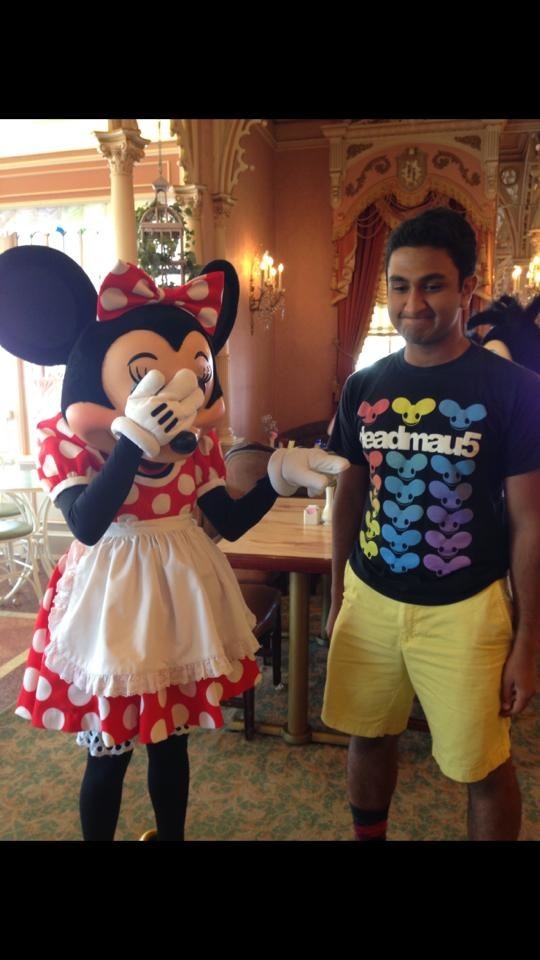 Minnie is just so pure, she can't even get offended about a statement of all her friends being dead! What a t-shirt to wear to Disney World though, of all places!? He obviously didn't think before he got dressed, that morning! Or maybe he did!?
7. Donald for president (no, not that one!)
Awwww, Donald Duck found his family 😍😍😍 @DisneyParks @Disney @Disneyland pic.twitter.com/IVNeE4q1tK

— Angie (@AngelaTsoukalas) June 18, 2015
The excitement on Donald's face here is just so pure! If you ask me, America definitely has the wrong Donald in the White House!
8. No job too for Mickey!



Imagine waking up from a diabetic coma and seeing Mickey Mouse dabbing your forehead with a damp flannel!? For a second you'd either think you were hallucinating or had already died and gone to heaven! But would you really, care!?
9. DISNEYLAND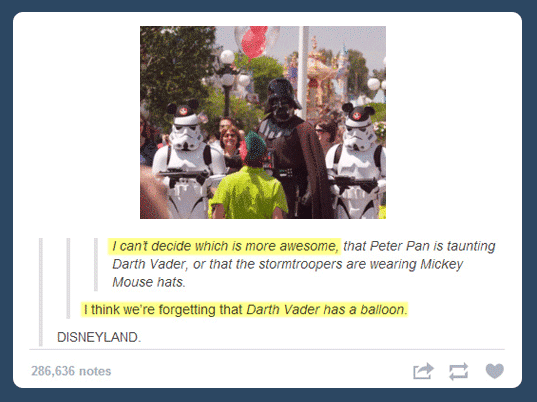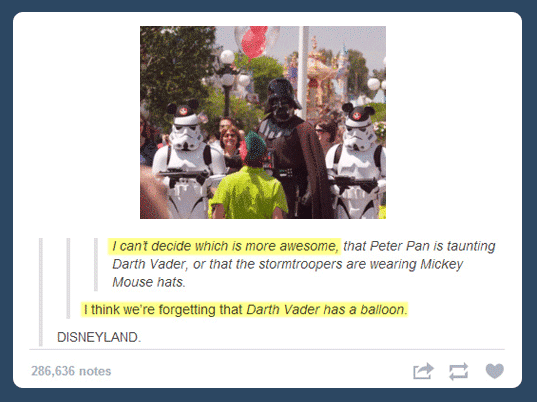 Seriously though, it just wouldn't be possible to choose a favourite part of this, would it!? Although I think the Storm Troopers wearing Mickey Mouse hats is my personal favourite.
10. So Ariel isn't so innocent, after all!?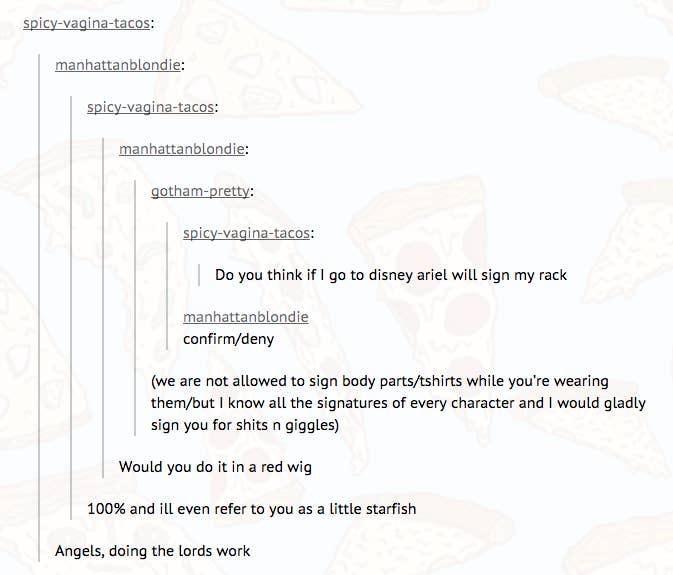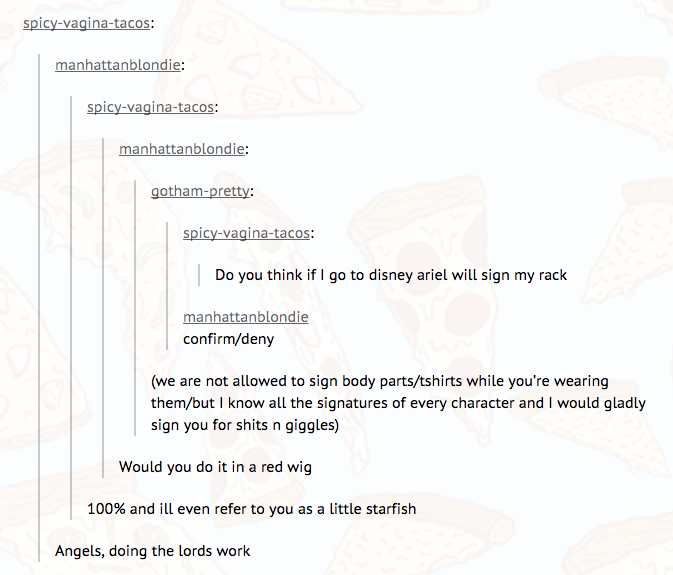 She's not even working there anymore and she's still willing to make magic happen! Even if the red wig and 'little starfish' stuff seems a little creepy! But hey ho! Why waste such an amazing talent!?
11. No one is a SNEAKY Feminist like Garston!
This is just perfect, again, method acting to the max here! He's being his character WITHOUT being his character if that makes sense? I'm sure you guys know what I mean. Okay, maybe not, just appreciate Garston's awesomeness then!
12. The most beautiful thing you will ever see, EVER.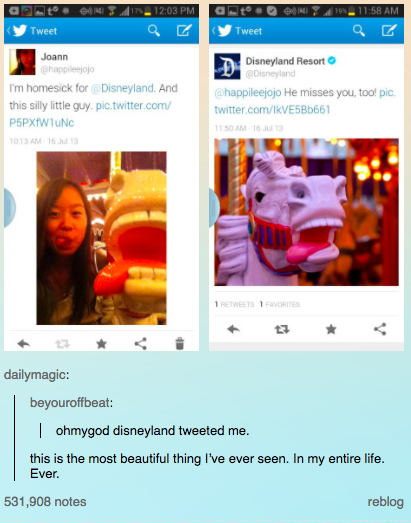 I find this so relatable, just because I know if I ever go to Disney Land then I would also totally make friends with the silliest, most derpy thing in the park! Hence, this guy!
13. They drop the BEST references!
*Disney worker walks opposite of crowd*
"Now I know what Mufasa felt like"
Me: pic.twitter.com/4DVbjwxUgE

— Kat (@Katlovey14) October 9, 2017
Do Disney Land get their employees from some cool as*, magical land or what!? I need answers! Where do you get these cool, real-life living angels from!?
14. I also want to work at Disney
I think we ALL want to work at Disney World now, am I right!?
15. They have a secret language!

Obviously, all the Cast Members are there to create magic and be part of a show, which is why they're not actually referred to as 'employees', and their visitors are always known as 'guests'. You wear a 'costume', not a 'uniform'; have a 'role', not a 'job title'; and you're never 'at work' but 'onstage' or 'offstage'. When your role is to be a character you can never say you 'play Donald Duck', you have to say that you're 'friends with Donald Duck' so that you don't ruin the magic in case little ears hear you.
How sweet is that!? So they ARE real life angels, then!?
16. Playing the character isn't always easy!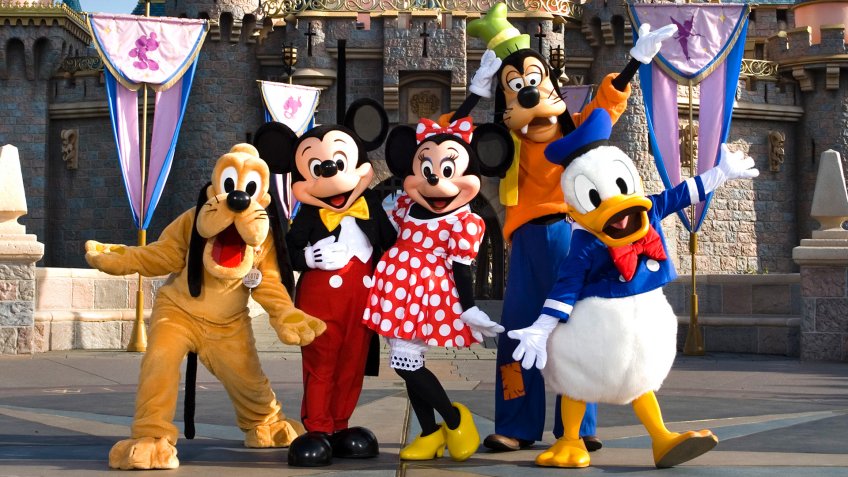 You've got to give them credit for being so warm, kind and amazing when walking around in what must be a very heavy and very hot costume all day! But apparently, not only do you have to wear a giant fuzzy costume in sweltering heat, but you also need to go through intensive training too. This involves hours of practising the moves and mannerisms of a character, but it also means learning how that particular character expresses certain emotions and being able to perfectly copy their autograph.
Wow! Now that's dedication!
17. They always make sure that the magic comes first!

As we've already gathered, Disney is all about creating magic and putting on a show so that everyone visiting has a memorable experience. All Cast Members are encouraged to go out of their way to create 'magical moments' for guests at any given opportunity, even if that involves abandoning work duties!
So, even work comes second to the magic with Disney employees, as if we needed any more proof of their awesomeness though!?
18. Even our pets get given magical moments!

All Disney Employees know that it's important that the furbabies have a magical time, too! As this cuter than CUTE pic proves! Excuse me a minute, I think I'm going to cry!
19. THIS moment with Woody that could melt hearts in one second flat!
https://www.youtube.com/watch?v=93Cv15ARvYM
Well, I'm sure that this sweet little boy, won't forget meeting his hero for a long time to come! Bravo, Woody!
20. & Finally, just because it's so, so precious!

Another time when 'Pluto' was AMAZING for being totally adorable with Dogs at Disney Land!
Well, I don't know about you guys, but after seeing all this, I think we all need to go there, like, RIGHT NOW! #getmetodisney #bringyourdogs
All images and media are credited to Buzzfeed, Twitter & Newsflare.