Most women dream of that one line being fed to them by their beloved…
No, it's not…
'You have a lie-down dear, while I do all the housework and order you a pizza!'
(That'll always be the dream!)
But, 'Will You Marry Me?' is probably a good second.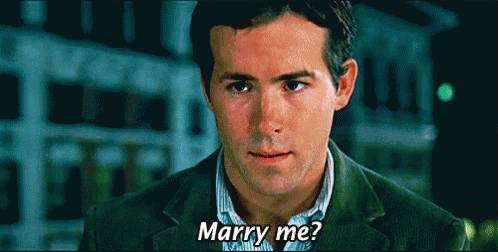 If you have been waiting for a long time for your forever mate to pop the question, then those magic words alone would be enough to make any wedding fuddled female, weak at the knees!
But if the proposal itself is as epic as these guys', then it's going to be an absolutely unforgettable moment!
(& Impossible to say no!)
1. She didn't know what was coming until she saw their picture at the end of the ride.

From one thrilling moment to another! Imagine coming down from this ride, only to see this waiting for you at the end? I can't imagine which one would have thrown her the most! I'm guessing these guys only had one shot at this, too! They totally nailed it. His friends are keepers!
2. Just as she was about to climb off of the steep rock her boyfriend, Andrew, started going on about how the beautiful hike reminded him of their relationship. Before she knew what was happening, he got down on one knee and asked her to marry him.

This is just the stuff of fairytales, look at that view, as well! I'm totally not jealous!
3. Alesha's boyfriend took her to the world's biggest cave, where he dropped down on one knee and proposed.

I've got to admit, a cave isn't my idea of a good time #claustrophobiacentralhere, but this is such a magical picture! A once in a lifetime chance!
4. This woman got quite a surprise with a picture-perfect proposal themed after Jane Austen's "Pride And Prejudice"

WOW. I can't imagine how much planning and effort went into this proposal…imagine what the wedding is going to be like!?
5. This guy knew his gal could never say no to an adorable dolphin!

I'm probably more likely to marry the Dolphin, but this is so sweet! A sure fire way of making it so she just couldn't say no!
6. He led her into the snowy ice skating rink where a red carpet was laid out on the ice with a special box waiting at the end…

With the beautiful, winter wonderland setting…I think this is absolutely stunning! Yeah, totally not jealous, honest! #foreveralone
7. This highly detailed and beautiful beach proposal required the skills of a true artist to pull off.

A tropical dream! Let's hope the sea didn't wash it away, too quickly! Beautiful work!
8. After finishing up a 5k colour run, this paint-splattered fellow got down on one knee and asked his leading lady to "begin our own race."

The race of life is always better when ran together…
9. "UP!" Themed Proposal. "It took weeks of flea-market hopping, but I was able to find the details needed to re-create the living room scene."

They already had me at "UP!" This is so amazing!
10. It took 9 hours of hiking to reach this peak of Trolltunga. "As I was looking at the camera Connor tugged my hand, when I turned around he was on one knee."

Talk about waiting for the perfect moment. Imagine how nervous/excited he'd have been on that 9-hour trek!? Hat's off to you, sir!
11. This awesome dude proposed at his lady's soccer match during the biggest game of the season

She's not only winning at the soccer life but married life as well…and I can't even get a text back…or walk up a flight of stairs without getting out of breath…
12. Dog helps his dad pop the big question

This is my kind of proposal…HOW COULD YOU SAY NO TO THAT FACE!?
13. Making waves with a beautiful beach proposal

I think Lady Sea has something against romance (who hurt you, hun?)…or maybe she was just giving them her blessing in her own homicidal way!? Either way, it's definitely an unforgettable moment!
14. Risky Pet Proposal

If this doggo wasn't well trained, that ring could have been going places, that no man wants to delve into!
15. "We were in the middle of nowhere, surrounded by mountains, miles from the nearest person. It was like we were placed into some fairytale winter wonderland."

This is so lovely, although part of me is hoping that he isn't just proposing just in case they never reach civilisation again!
16. Street art proposal wins her heart over!

What a cool, unique way of expressing your love for another person!? (Although, at first glance, I thought the sash was a roll of toilet paper!)
17. Kinder Suprise Proposal

How creative is this!? Well, it certainly makes a change from the usual crappy toy… (I'm just wondering how he got it into the egg!? I need answers!)
18. This man proposed on stage during their favourite band's concert. "I was shaking and couldn't stop smiling. I listened while the man of my dreams knelt and proposed to me, echoed by the cheers of 7000 supporters."

This really is the stuff that dreams are made of.
19. "He led me through the rose petals to a spot at the end of the rocks. I didn't cry immediately. Then his eyes locked on mine and I lost it."
I'm not crying, YOU'RE CRYING!!!
20. Proposal at the famous Potato Chip Rock

Apart from making me feel a little anxious and nauseous, this is a pretty cool location to get engaged!
21. "There were flower petals and candles everywhere and a movie screen set up. Aaron pressed play, came and sat by me in the teepee, and started shaking and tearing up."

They are obviously meant 'teepee'…
(Sorry! As usual, I just ruined a beautiful romantic moment!)
22. Secret photographer captures a perfect proposal on a beautiful lake

Just gorgeous. I'm not really a romantic person, but this is making even my cynical heart swoon!
I really hope these guys have a long and happy marriage together, after the effort that went into these epic proposals, they totally deserve a life full of love and awesomeness!