The country's most notorious and dangerous prisoner, Charles Bronson, covered himself in butter and had a "showdown" with prison guards on Valentines Day, it has been reported.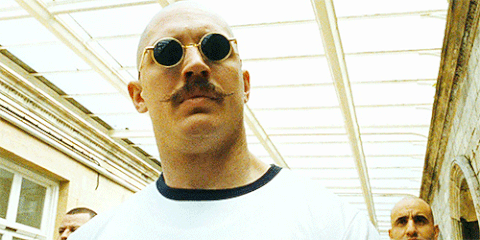 The 65 year old inmate is said to have covered himself in the slippery substance before challenging officers at HMP Frankland, where he is being held. Bronson's unusual move came after he was denied seeing his wife, Paula, to give her a romantic card on the amorous day.
Bronson married former Coronation Street Actress Paula Williamson at Wakefield prison, where he was previously being held, on the 14th November of last year. The pair began exchanging letters before apparently falling in love with one another. Williamson has a hobby of writing to high-profile prisoners, having previously wrote to killer, Ian Brady.
It is said that Bronson proposed to the former actress on Valentines Day of last year, after wooing her by singing a rendition of Frank Sinatra's My Way down the phone. "I'm very excited to be his fiance because I'm in love with the man and that's God's honest truth," Paula said on an interview with Good Morning Britain.
Asked if the proposal was a publicity stunt, Miss Williamson replied, "I do know Charlie and this is the real deal."
The couple had planned to marry on Williamson's birthday in August, but the date had to be pushed back after needing to wait for permission from authorities. When they finally got the go ahead for the 14th of November, Williamson was bundled into HMP Wakefield wearing her white wedding dress and underneath a purple sheet.
The wedding occurred after a bizarre procession through town, which included a Bronson lookalike and a lady on a mobility scooter. Bronson has been behind bars for the past 42 years.
The ceremony itself was a strictly controlled affair, witnessed by just five guests. The groom wore a white jacket, black shirt and Union Jack shoes to tie the knot. In a strange mixup, the bride walked down the isle to Death March instead of the usual Here Comes the Bride.
The couple then dined on a buffet of pork pies and Viennetta ice cream before the bride headed off to the reception held at York House Hotel, only a stone's throw from the prison. Guests at the reception included Katie Price's former flame, Alex Reid, gangster-turned-author David Courtney, and former boxer Andrew Parkin.
With Bronson not allowed to the reception, Paula had to dance with a hired lookalike. Afterwards, she jetted off on her honeymoon in Malta, again without the prisoner to accompany her.
In his latest escapade, Bronson, now going under the name Charles Salvador, smothered himself in butter to tackle guards after being refused a request to see his wife.
In an attempt to make it harder for himself to be pinned down, Bronson stripped and rubbed himself in butter before challenging the guards. A source said, "He was wanting a rumble but he ended up being the only one who got hurt – not like the old days."
"He pulled out half a pound of butter and took his clothes off and shouted and smiled to the officer in charge, 'Oi Gov, you'd better ring your mates as there's gonna be a bit of a rumble'. He then started spreading the butter all over him.
"He started warming up and was smiling when 12 guards with shields, protective clothing and batons ran to the scene.
"There was lots of ducking and diving but the guards got control of Charlie before he could do any damage. He was restrained on the floor and then sent back to his cell."
It is not the first time Bronson has buttered up in order to take on prison guards. In 2014, Bronson pulled the same stunt to take on 12 officers after becoming upset that Arsenal won the FA Cup.
Perhaps it would be a good idea to keep the spread away from the slippery Salvador in future before he attempts it a third time.