If, like me, you're one of those hopeless romantics who believes in fate, then boy do I have a story for you. A pair of childhood sweethearts from Australia, who lost touch for over 20 years, are now expecting their first child together.
Jemma and Daniel Langley were born a day apart in the same hospital, and met for the first time as newborns just a day later, after their mothers got chatting to one another.
After growing up as childhood friends, they sadly eventually lost touch, as their parents went on to live in different towns. It was only a chance encounter in a hair salon – some would say a fateful encounter – that brought the couple back together.
Jemma told her story to the MailOnline, saying "It began when Daniel's mother Janine and my mother Keryn both went into labour and were placed in beds right next to each other at the William Angliss Hospital, in Upper Ferntree Gully, Australia, in April 1989."
"Not long after, on April 14, my mother was taken away to the birthing room to give birth to me."
"After I was born the midwife took me in to meet Janine, so apart from my parents, doctor and midwives, she was one of the first people I met."
After giving birth, Janine and Keryn were brought back together, and their newborns finally got the chance to meet for the first time. From that moment, they formed a bond which would last throughout childhood, until they were eventually separated a decade later.
It was a painful time for the two of them, recalls Jemma in her interview: "With my parents living in Emerald and Daniel's living in Monbulk, they kept in touch and caught up quite a bit until we were about nine or ten, when they lost touch."
24 years later, through the power of social media, the two were reunited at long last – and it was all down to the photo-sharing app Instagram. While Jenna was randomly scrolling through Instagram, she came across a hairdressing page which – as luck would have it – belonged to Daniel's sister Rhiannon.
Not long after, Jemma got back in touch with her long-lost friend and the pair rekindled their relationship. Maybe they didn't know it yet, but it turned out to be the start of their happily-ever-after.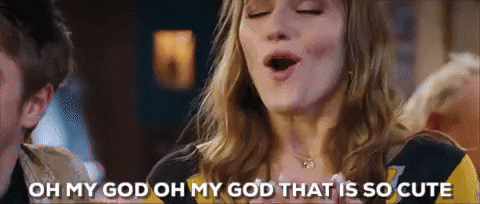 However, their first meeting didn't exactly go to plan.
"I started following her (Rhiannon) and not long after decided to track Daniel down on Facebook. We started chatting for a while over Messenger," said Jemma.
"I booked an appointment with Rhiannon to have my hair coloured. Rhiannon's salon is set up at Janine's house which is also where both her and Daniel were living. So when I was in the middle of my appointment, Daniel turned up and popped in to say hello. He went in for a kiss on the cheek, but ended up with hair dye on his hat.
"We both laughed but I think he was a little upset."
But Daniel wasn't about to let a bit of hair dye get in the way of fate, and despite the slightly embarrassing encounter, Daniel and Jemma soon began spending all their time together.
Jemma said: "From then we couldn't get enough of seeing each other. On Mother's Day in 2014 we officially became a couple. New Year's Eve in 2016 my friend and I decided to surprise our partners with a cute picnic dinner at the Royal Botanic Gardens in Melbourne."
"Little did I know Daniel had a surprise of his own and proposed to me. I was so shocked… I said yes and couldn't wipe the smile off my face."
All these years later, this pair of childhood sweethearts finally had their dreams comes true. The pair are now married and expecting their first child in March next year, and they can't wait to meet the new arrival. Who knows, maybe Jemma will meet another new mom on the maternity ward, and the cycle will continue in the future!
Speaking to LADbible, Jemma said the past few years have been a complete whirlwind.
She said: "We are so thrilled to be having our first baby together! Looking back at everything, it is very surreal."
It just goes to show that all that stuff you see in mushy chick flicks occasionally does happen in real life. Congratualtions Jemma and Daniel, we're really happy for you.