Declan Donnelly hosted solo for the first time in his 20 year career on Saturday night.
One half of the loveable Geordie-duo was forced to present Saturday Night Takeaway on his own after partner, Ant McPartlin, checks into rehab to receive treatment.
The presenter, having never presented without his taller counterpart, looked visibly nervous as he took to helm the show single-handedly. The decision was taken by ITV and the duo to air the remaining two episodes of the series, despite Ant and Dec previously vowing never to work alone. Ant was arrested last month and charged with drink driving after a collision on Sunday involving three vehicles in south-west London, where minor injuries were recorded.
In their 2010 autobiography, Ooh! What a Lovely Pair, both adamantly stated that they would never work on television without the other. "We made an agreement," Ant writes. "Whatever happens, we'll be mates forever, and neither one of us would ever be on our own out there." Declan then agree with his presenting partner and best friend of 28 years by saying, "We've been incredibly fortunate to have enjoyed such a remarkable time. Throughout it all, we've always had one constant that's kept us sane – each other." The couple know that it could be hugely damaging to their careers if one of them went solo, and so they even have an insurance policy for if one of them is ill.
But clearly, that agreement changed on Saturday. The pair decided that the best thing to do was for Dec to go solo and finish the two remaining shows. Saturday Night Takeaway took a one week's hiatus whilst ITV bosses and show producers struggled to make a decision on how to overcome this hurdle. Eventually, a statement was put out on Ant and Dec's twitter to confirm that Saturday favourite should continue.
— antanddec (@antanddec) March 21, 2018
But despite the circumstances surrounding the evening, Dec proved to be a hit with the audience! His first solo stint drew an average of 7.7million viewers – a 39% audience share – peaking at 8.6 million.
People reacted on twitter, having very strong feelings about seeing this strange, historical moment on television.
Massive well done to Dec for hosting #SaturdayNightTakeAway solo! After only hosting with Ant, that must've been horrible/scary to do it himself and he was so good! Well done Dec ❤️

— Katie May ? (@katieemay1) March 31, 2018
Just watched last night's #saturdaynighttakeaway Very proud of Dec hosting by himself for the first time! We know not being with Ant by his side must have been strange for him! ?

— Charlotte ✨? (@CharlCharles_) April 1, 2018
Historic. I think everyone just wants to give Dec a hug. #SaturdayNightTakeaway pic.twitter.com/kmr1eNXSfy

— Matt Haze (@MattHaze) March 31, 2018
And it wasn't just audiences who thought Dec smashed it on his own! Sources say that Simon Cowell and bosses at ITV were also impressed by this historic moment.
"After last weekend the feeling is very much that Dec should take on BGT alone too – he did a brilliant job."
"The bosses at ITV loved him and want him back on screens as soon as possible, and Simon Cowell totally agrees that he's the best man for the job rather than bringing in a new face.
"It was obviously strange for viewers seeing him alone at first, but he took everything in his stride like a total pro. That's not to say people didn't miss Ant, but the overwhelming response was that Dec was fantastic solo too."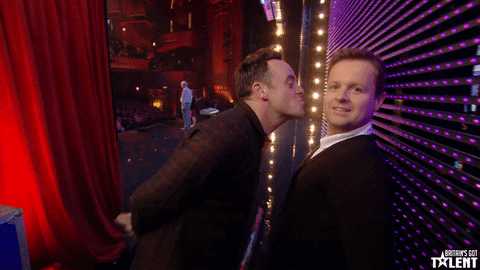 It is said that bosses at the network were struggling on how to address the 'Ant issue' whilst remaining sensitive to the victims of the crash. Eventually Dec decided not to mention his best friend by name, but simply said "Thank you very much. Thank you for that very warm welcome, I really appreciate it."
"We've got a jam packed show this evening and I have twice the amount of work to do."
So with filming for Britain's Got Talent imminent and I'm A Celebrity afterwards, will Dec continue to go it alone? Here's hoping that whatever happens, we see the pair reunited and back to their old tricks as soon as possible.