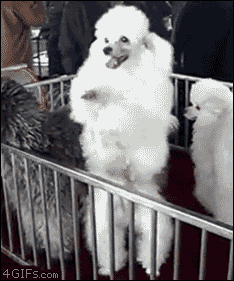 Do you love dogs? Do you love leotards? Do you think your dog loves leotards? Do you ever wish you could combine both your love of dogs and leotards? Well, wish no more folks! Because now that dream has become a REALITY…
It's about time, right? Of course it is… but what's the real inspiration around the phenomenom. Well, let me introduce you to Tyson Walters, who is the owner of a very lovable, yet furry Saint Bernard named Harley, and the founder of the company Shed Defender.
Walters dreamt up this fabulus canine -friendly garment in order to tackle a very common problem he had while taking car ride with his dog Harley. The leotards are form-fitting, and are made of lightweight, breathable material. Not to mention, they are so FREAKIN' adorable!
Walters explained the dilemma he occassionaly faced;
"My car was practically ruined. Harley's hair would intertwine in the fabric and not want to ever come out," Walters told The Dodo. "She would shake and the hair would just explode off her and disperse all throughout the car. I looked around on the internet and dog stores, but I couldn't find a solution. So I decided to make one."
Not to mention, not only do they make your furry best friend look like a teeny shed-free superhero, these Shed Defender leotards are also an incredibly convinent solution for whenever someone with a dog allergy drops by, as the leotards also reduce the spread of hair and dander to a complete minimum. Not bad, eh?
Obviously, irt doesnt completley prevent shedding, you'll still have to brush your little pupper. But it does keep the shedding in check when need be.
There is a whole host of wonderful benefits when using such a garment, too. For example, when it's worn outside, it keeps your dogs coat nice an clean, and on a cold day it'll even keep them better insulated in harsh conditions. Amazing!
Not to mention, if your dog has stitches or some sort of skin irritation, the Shed Defender can even be used as a replacement for the oh-so-dreaded cone of shame.
But thats not all, either. If your pup gets anxious, they could benefit from the garment as well. Wrapping up dogs in snug fabric is scientifically said to ease their nervousness during time of stress! It's the gift that just keeps on giving.
Of course, there are probably a lot of people out there who question the idea of forcing dogs to unnaturally wear leotards, which is completley fair enough. However, Shed Defender has been quick to note that the protect is only intended to be worn for brief periods of time – and that your dogs should be properly brushed after using it due to the fact it's recommended to maintain a healthy coat.
The fabric itself allows enough airflow that overheating isn't a problem at all. Think about it… if it was, he probaly wouldn't put one on his beloved Saint Bernard, right?
Oh, and you'll also need to unzip the relevant end when it's time for your leotard-wearing pooch to er, do their business, if yoy catch my drift.
"It is actually pretty easy to put on and very easy to take off," says Walters.
And to put your mind at ease a little more, Shed Defender also says that veterinarians all over have given it their stamp of approval. But of course, that still doesn't guarentee that your pup will be 100% into at first, and Shed Defenders are the first to admit it;
"Every dog reacts differently to the Shed Defender, sometimes it can take awhile for dogs to get comfortable in any type of garment, including the Shed Defender. They might walk a little funny or pick up their hind legs when they walk, but just give it time and they will soon forget they are even wearing it."
While it is entirely possible that some dogs just wont be into the whole-wearing-a-leotard thing at first, Shed Defenders do hope it will have added certain benefits to all dogs in general either way. One of the most wonderful things about the Shed Defenders doggy leotards is that a portion of the proceeds of every garment is donated to local animal shelters in order to help homeless pets. Now if that isn't a good enough reason to get one, then I don't know what is!
Oh, and also… did I forget to mention that dogs in leotards are ridiculously adorable!?