The Gilmore Girls were everybody's favourite mother-daughter duo! Fans around the world have followed Lorelai and Rory's adventures together for over seven seasons. When Netflix released its four-part special, Gilmore Girls: A Year in the Life, everyone was shocked at the series end – Rory's cliffhanger was a definite surprise and we really hope it wasn't the last episode ever.
Gilmore Girls has a huge ensemble cast, with popular series regulars Emily and Richard Gilmore, Sooki, Luke and various Sleepy Hollow residents all forming a large part of the show. Not to mention the many boyfriends, fiancés (and eventually husbands) of Lorelai and Rory – fan favourites included bad boy Jess Mariano and rich kid Logan Huntzberger among many others.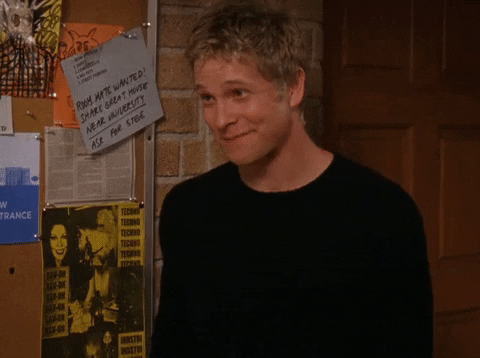 Now let's take a look at the real-life partners of the cast of Gilmore Girls…
1. Lauren Graham & Peter Krause
Lauren Graham has received multiple SAG nominations for her starring turn as quirky single mum Lorelai Gilmore (same initials!). In her role as Lorelai, Graham acted alongside many on-screen boyfriends, from Rory's schoolteacher Max Medina to her father's business partner Jason 'Digger' Stiles.
She even had an on-off relationship with Rory's biological father Christopher, who always had a habit of turning up at the most inconvenient moments. But throughout the series, fans were always rooting for her to finally wake up and notice her close friend Luke, who was stood behind his diner counter nearly every episode serving her coffee.
Since her starring role in Gilmore Girls, Graham revealed on Ellen Degeneres' chat show that she had found love with fellow actor Peter Krause. The pair have known each other since the 90s but were never in the right place at the right time. They eventually started dating in 2010 after their on-screen chemistry in TV series Parenthood sent sparks flying.
2. Alexis Bledel & Milo Ventimiglia
Gilmore Girls fans were sent into overdrive when it was revealed that Alexis Bledel – aka Rory Gilmore – was actually seeing her on-screen boyfriend Milo (who played Jess Mariano) in real life. Their chemistry was evident during Milo's run on the series, and even after his departure he made several memorable appearances in later seasons.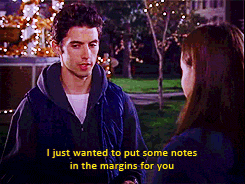 Off-camera, the couple remained together for four years after first meeting in 2001. They kept their relationship private but Alexis later claimed in an interview that they had even discussed marriage. "I think everybody who has been dating for more than a couple of years probably talks about it at some point," Alexis told People in September 2005. "It's a fun thing for us to talk about, but that's it."
It's unclear why the two split, particularly since they were famously secretive about their relationship. However, Milo's rep confirmed that the two had parted ways in 2006, leaving Gilmore Girls fans to pick up the pieces.
3. Alexis Bledel & Vincent Kartheiser
After her relationship with Milo, Alexis went on to find love with another actor – this time Mad Men's Vincent Kartheiser. The pair met during filming of the show, when Alexis guest-starred as a love interest to Vincent's character Pete. They announced their engagement in March 2013 and later married in 2014. Alexis gave birth to a son the following year.
4. Melissa McCarthy & Ben Falcone
Since her starring role as quirky chef Sookie St. James in Gilmore Girls, McCarthy has shot to fame. She was a leading actress in girl comedy Bridesmaids (2011), whilst her hilarious impersonation of ex-White House Press Secretary Sean Spicer went viral. But to fans of Gilmore Girls she will always be known for her role as kind and caring Sookie.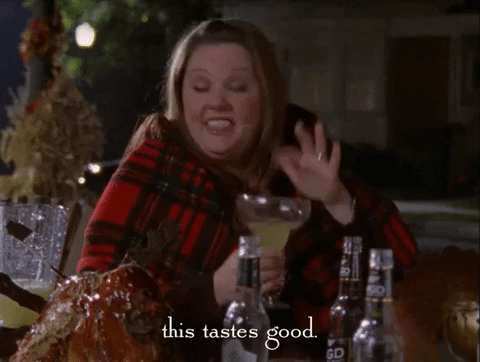 In the series, Sookie eventually found love with vegetable gardener Jackson, and the on-screen couple started a family together. Melissa McCarthy has done the same thing in real life, although Ben Falcone isn't a gardener but a fellow actor and comedian.
The pair seem to like working together, as they both starred in Bridesmaids and Ben recently directed his wife in a love scene for the comedy film Life of the Party (2018). Not every husband could manage to be so professional in that situation! It works for Melissa and Ben though, and the celebrity couple are still happily married after 13 years together.
5. Scott Paterson & Kristine Sarayan
Series regular Scott Paterson was a favourite amongst fans for his portrayal of Luke Danes, the grumpy diner owner of Stars Hollow. After several seasons and many ups and downs, he finally managed to get the girl, much to everyone's relief! In real life, Scott's partner is Kristine Sarayan – there were rumours in 2017 that the couple had secretly got married but nothing has been confirmed by the actor. Paterson was previously married to high school sweetheart Vera Davich, but they divorced in 1985.
6. Jared Padalecki & Genevieve Cortese
Jared played Rory's almost-too-nice boyfriend Dean and was a series regular right from the first season. Memorable moments from his time on Gilmore Girls included the love triangle that began between him, Rory and bad boy Jess, and the night that Rory lost her virginity to a then-married Dean.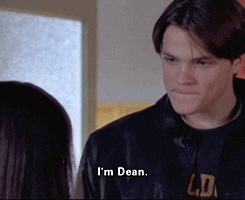 Since that time, Jared took on a leading role in Supernatural as Sam Winchester, a man who hunts paranormal creatures. The series is currently in its thirteenth season and is one of the longest-running sci-fi shows in American TV history.
In reality, his love life isn't quite as complicated as his Gilmore Girls alter-ego. Jared has been married to his Supernatural co-star Genevieve Cortese since February 2017. The couple have three children together and have rejected the Hollywood Hills for a quiet family life in Jared's home state of Texas.
7. Edward Herrmann & Star Herrmann
In Gilmore Girls, Edward Herrmann played family patriarch Richard Gilmore to great acclaim. His marriage to Emily was a mainstay of the series and – apart from a brief blip resulting in separation – the couple remained together onscreen for many seasons.
Fans were devastated to learn that Edward Herrmann had passed away shortly before the Netflix return of Gilmore Girls, a fact which saw Emily struggling to comprehend his death and try to get by on her own. Before his passing, he was married to Star Herrmann for twenty years until his death in 2014.
8. Kelly Bishop & Lee Leonard
Kelly Bishop's TV career has spanned several decades, and she originally started her career as a professionally-trained ballet dancer. Fans of Gilmore Girls will also remember her as staunch matriarch Emily Gilmore, whose furious arguments with her rebellious daughter forged a memorable family dynamic on-screen.
Fortunately, off-screen her family life has been a lot less tumultuous! She currently lives in New Jersey with her TV talk-show husband Lee Leonard. The couple have been married since 1981.
9. Sean Gunn & Gina Clover
We can't do a list of the Gilmore Girls cast without including everybody's favourite Stars Hollow resident, Kirk. Later on in the series, oddball Kirk managed to find love with kooky new arrival Lulu Kuschner. In reality, Sean Gunn is in a relationship with Gina Clover. It's unclear when the two first met, but according to Gina's Instagram account it seems that they're still going strong – she refers to Sean as 'the most generous, wonderful and weird human I have ever met'. Not too dissimilar from his Gilmore Girls alter-ego then!
10. Liza Weil & Paul Edelstein
Paris Geller was Rory's ambitious, neurotic and perhaps even slightly-insane best friend. When they first met at Chilton, the two girls were high school nemeses, with Paris threatened by intelligent newcomer Rory. Eventually though, the pair formed a firm friendship and later lived together at Yale. Liza Weil won praise for her performance as Paris, whose tough exterior definitely betrayed a tender side.
During the course of the series, Paris had some interesting romances. Older men in particular seemed to be a running theme – she fell for college student Jamie before later engaging in an affair with her professor at Yale, the somewhat elderly Professor Asher Fleming. By the end of the series, she manages to find someone her own age in the form of Doyle, an equally neurotic writer on the Yale Daily News.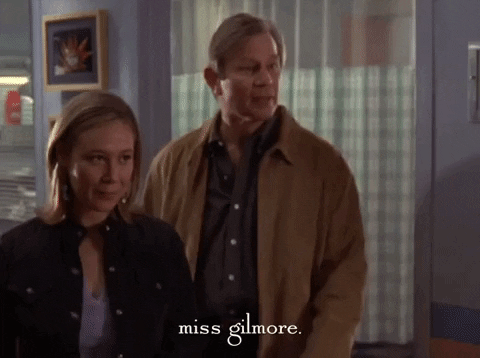 Off-screen, Liza was married to Paul Edelstein from 2006 to 2017, after they met during various stints in the world of theatre. Unfortunately, Liza filed for divorce and the pair have now separated for good.
11. Keiko Agena & Shin Kawasaki
Keiko Agena played Rory's childhood friend and fellow Stars Hollow resident Lane Kim. Lane's notoriously strict mother meant that her relationships onscreen were limited to nice, Christian Korean suitors (not Lane's first choice in a boyfriend). Eventually Lane decided enough was enough and fell pregnant by one of her bandmates (and later husband), Zack Van Gerbig. In real life, Keiko has been married to husband Shin Kawasaki since 2005.
12. Matt Czuchry & ??????
We have to include a special mention here for Rory's dashing and confident ex-boyfriend Logan. Over the course of the series, Rory and Logan remained together before she rejected his marriage proposal in front of the entire family…eek! In the Netflix reboot, fans were shocked to see them having an illicit affair behind his fiancée's back. In reality, Matt Czuchry – who later went on to star in The Good Wife – is single and looking, so any Logan fans out there might still be in with a chance!