Fan of 90's comedy duo Bill and Ted? Well you might just be in luck, because actors Keanu Reeves and Alex Winter have revealed there is a third film in the works!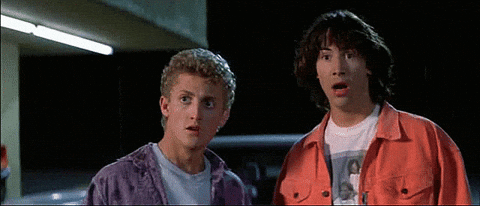 In a recent interview with Entertainment Weekly, the pair were joined by Bill and Ted writers Chris Matheson and Ed Solomon to discuss the first two films and the possibility of a third!
Bill and Ted's Excellent Adventure was released in 1989, with the followup, Bill and Ted's Bogus Journey released two years later in 1991. The films were an instant success, spawning a cartoon spin-off, a live-action TV series, a Nintendo game and even their own breakfast cereal called Bill and Ted's Excellent Cereal.
The title for the third film would be Bill and Ted Face the Music, and according to writer Ed Solomon, all they're waiting for is the money to green light it. "We are hoping to close a deal with some financiers," he says in Entertainment Weekly.  "Hopefully within the next month or so, we'll have news that will stick." So what will this third film entail?
Bill & Ted reunited! Keanu Reeves and @AlxWinter recall alternate endings and more: https://t.co/KG8W2Rdpcj @ed_solomon pic.twitter.com/dK7xgUb4zB

— Entertainment Weekly (@EW) March 30, 2018
According to the writers, the film would see Reeves and Winter reunite, still struggling to complete their great achievements in life. The second film ended with futuristic mentor Rufus, played by the late stand up comedian George Carlin, telling the teens that they would write music that would turn the world into a utopia. According to Matheson, the film would focus on where the duo are in their lives right now. "You're told you're gonna save the world. And now you're 50 and you haven't done it. Now they're married, and it affects their marriages, and it affects their relationships with their kids, and it affects their everything."
So how close is the film to actually being made? Well a crew and cast are already being put in place for when this highly-anticipated third instalment in the franchise is eventually given the go-ahead. Alex Winter, one half of the duo, says that they have found a director, "Dean Parisot, who we love, did Galaxy Quest, which is a masterpiece." One of the original producers, Steven Soderbergh, is also back on board according to writer Solomon. And as of the cast? "Bill Sadler is back, returning as death, and a few delicious cameos by people to be named another time,' he says. We wonder who these cameos might be.
Winter has described the process of getting Bill and Ted Face the Music out of development hell as the same as trying to get the original produced. "The whole trajectory of getting the next one off the ground has been pretty much exactly like the experience of getting the original. Going to every studio, and they're like, 'What the eff is this?' It's this kind of independent spirit, and the films have an anachronistic quality to them that's a big part of what they are, fundamentally. I'm really happy that this one is the same. It doesn't feel like some stale knockoff that a studio would have immediately gone, 'Oh, this feels right. We have rebranded very successfully.'"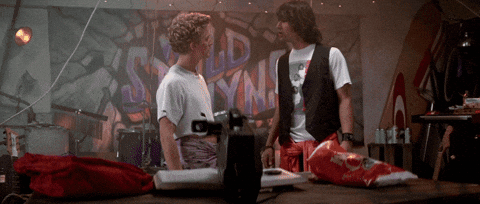 So here's hoping that the film gets the green light as soon as possible, and that we'll have more Bill and Ted in the near future.