Petting a friendly, playful dog in the street really is one of life's great pleasures. It lowers our blood pressure, elevates our mood – and crucially, they love it just as much as we do, if not more.
Dogs are pretty smart, so some of them have little techniques to maximize the amount of pats and lovies they can get in a given day. One such 'doggo' is Riley, a gorgeous ginger gentleman who has figured out a great way to get passers-by to play with him.
Riley leans over the edge of his yard, and drops his ball whenever he sees someone approaching, safe in the knowledge that whoever it is will not be able to resist taking time out of their day to give him a pat.
One such lucky pedestrian was Twitter user Johnny Berchtold, who couldn't wait to tweet about it:
This good wall-doggo dropped his ballo but fear not I returned it to him and thanked him for his service pic.twitter.com/ybsVME5xCp

— Johnny Berchtold 🎃🔪 (@JohnnyBerchtold) September 1, 2018
It's undestandable that he wanted to tweet about it- after all, this isn't the kind of thing that happens every day. Except that, well… it is. It turns out that he's been doing this for years: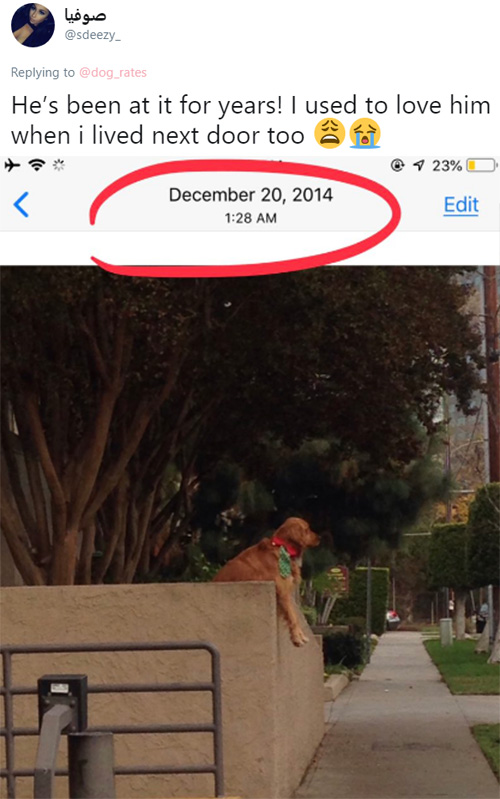 Johnny's video was picked up by the wholesome Twitter page WeRateDogs, who explained Riley's little playtime technique. They gave him a whopping 14/10, which is no less than what deserves.
Their tweet also got the attention of a few of Riley's playmates, past and present:
I live next door and it's true 😂😂 pic.twitter.com/xirX5iDhuv

— albreannafindme (@Albreanna89) October 23, 2018
Of course, Riley doesn't just stay in his yard, he gets out and about to meet his adoring public. Another Twitter user, Lexi, recalled the time where she met Riley at a local event:
I met Riley earlier this month. We became best friends at Lemonade. 14/10 is right. pic.twitter.com/d7VrPzA9vF

— Lexi (@LexiKing816) October 23, 2018
What a special little guy. If you're not following the WeRateDogs Twitter, I'd highly recommend that you do so. They tweet about tons of dogs like Riley, and never give below a 10/10. As it should be!
You can also follow Riley at https://twitter.com/ImRileyRoo.
Have you ever come across Riley, or a dog with a similar playtime technique? Let us know in the comments!
Follow the Aunty Acid Facebook page for more.