Everyone remembers the celebrities they grew up watching every Saturday morning or Saturday evening, for some reason they stay with us far beyond our childhood and the memories of those times really make us feel nostalgic.
So where are the celebrities we grew up with now? What are they up to? Are they even still alive? We look back at some of the celebrities that made growing up in the 80s great – how many do you remember and who have we left out?
Mike Read
The lead presenter on everyone's favourite way to wake up on a Saturday morning at the time – Saturday Superstore – Mike Read would help us through those Saturday morning introducing the cartoons and special guests and generally having a good time with the other presenters.
Mike has continued to do some radio work on and off and even did a Radio 1 Vintage program in 2017 looking back at his days on the radio station.
Pat Sharp
Known to a generation for his mullet and for presenting the kids' favourite Fun House, Pat Sharp was a great, witty presenter who made the show even more enjoyable.
Pat also is still working in radio, mainly local on SAM FM South Coast, he also presented Pat Sharp in The House on Vintage TV.
Andy Crane
Andy Crane was the presenter in the Broom Cupboard, but is well known as playing second-fiddle to the true star – Ed the Duck!
Since March 2014, Andy Crane has presented Breakfast and Weekend bulletins as a freelance newsreader for ITV Granada and also presents the Breakfast show on Bauer City 2 Network.
Andi Peters and Emma Forbes
Pictured here with a young John Barrowman, Andi and Emma presented Live and Kicking on BBC every Saturday morning, and what a pairing, they would work together so well and had a real chemistry as a duo, add in Trevor and Simon and it's a winning combination!
Over recent years, Emma Forbes has become quite quiet, though she did come back in to the limelight after some slightly unflattering pictures of her at the beach were published, the press as always focusing far too much on the negative side of things. Andi Peters has continued to appear on TV as a co-presenter of Good Morning Britain, usually introducing their competitions.
The Funhouse Twins
Every boy's first crush at the time, the Funhouse twins helped Pat Sharp make the program great!
Still looking great today, the Funhouse Twins have played on their success, hiring themselves out for events and parties as "The Funhouse Twins"!
Tommy Boyd
CITV Presenter and lead presenter of Wide Awake Club, Tommy Boyd was able to really get on the level of the kids he was presenting to.
Tommy has spent recent years presenting Talk Sport and Talk Radio, always saying how much he loves the format of talk radio programs.
Timmy Mallet
The presenter that everyone pretended to hate but secretly loved, much remembered for games like Mallett's Mallet and Bonk 'n' Boob!
Timmy returned to fame by appearing in I'm a Celebrity and also hires himself out for parties and events where you can see him shout "Bluuuurgh", get hit on the head by his mallet and get your own Pinky Punky soft toy!
Neil Buchanan
Remembered largely now as the presenter of Finders Keepers, and especially Art Attack, Neil Buchanan has s fond place is everyone of a certain age's heart. Those of us who grew up in the early 80s, however, will still remember Neil Buchanan as the co-presenter of No. 73, ITV's answer  to BBC's Saturday Superstore and Going Live!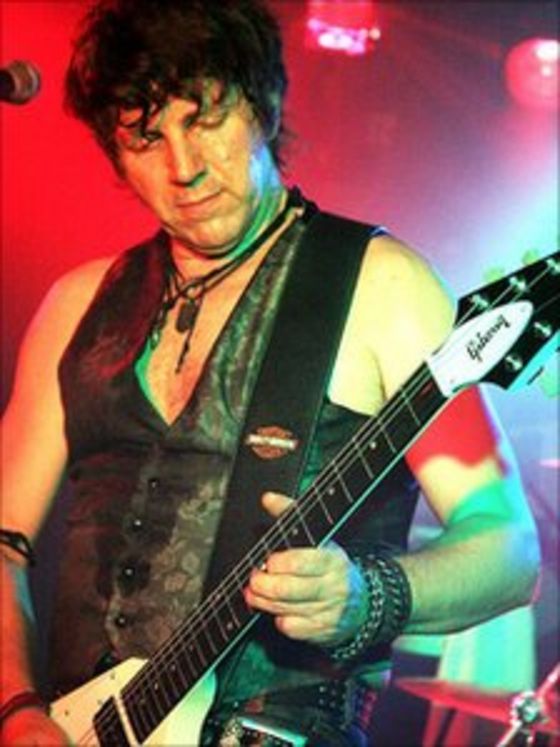 After becoming a household name thanks to Art Attack and Finders Keepers, Neal Buchanan stayed on kids' TV for many years and was liked by all. In recent years he has retired from presenting to focus on his work in the Heavy Metal Rock Band, Marseille in which he plays guitar and provides backing vocals. As you can see he looks very different in this guise!
Sandi Toksvig
Few people seem to remember Sandi Toksvig as a Kids TV presenter now, but she was right there alongside Neil Buchanan presenting No. 73 on a Saturday Morning!
Sandi Toksvig is now one of the most well-respected presenters on TV and radio, she is extremely intelligent which has helped her take on the presenting job for QI, something I couldn't ever envisage anyone but Stephen Fry doing, but she really has filled his shoes admirably. Sandi regularly appears on panel shows and is not only intelligent but has a rapier-sharp wit to go along with it!
Philip Schofield and Sarah Greene
It's hard to think of many better pairings for Saturday Morning TV than Philip Schofield and Sarah Greene on Going Live. The pair worked off each other incredibly well with fantastic chemistry, often cracking each other up in the process. And as if the pair together weren't enough, there was a certain gopher named Gordon causing chaos on a weekly basis too!
Philip Schofield, the legendary Silver Fox himself, has rarely been out of the limelight, having an incredibly successful TV career to this day. He still presents This Morning with Holly Willoughby, and has also presented The Cube for several seasons and is often seen on other programs.
Sarah Greene has generally faded from every day celebrity life, but still pops up from time to time on various programs. In April 2017, Sarah Greene and Philip Schofield were reunited to present an episode of This Morning together proving they still have that chemistry, and Sarah then went on to guest present another couple of episodes of This Morning later in the year.
Trevor and Simon
"Swing your pants!", "We don't do duvets!", "We don't do CDs!", which of Trevor and Simon's catchphrases have stuck with you from your youth? Never failing to raise a smile on the viewers and laugh out loud funny, these two slap-stick co-presenters were on several of the Saturday morning shows, including Going Live and Live and Kicking. They would regularly take things well over the top to have the presenters in hysterics, and would never be afraid to mock even the most famous and well-respected celebrity guests. These two were a big reason why kids loved Saturday morning TV!
Trevor and Simon released the first episode of their crowd-funded Podcast, the comedy drama Strangeness in Space, in August 2015. In 2017, Trevor and Simon appeared on the 1000th episode of the hit TV Quiz Show, Pointless, proving they don't just do being stupid, winning £4,500 for their charities!
Dave Benson Phillips
Dave Benson Phillips, or DBS to his mates, was one of those presenters that stuck with people long after they had grown up. Dave's first proper foray in to presenting kids' TV came in 1991 when he became well known as presenter of Get Your Own Back where kids could get the chance to gunge or humiliate their teachers or parents and every kid had someone they'd love to get their own back on! Dave also was a regular presenter on Playdays for younger kids, too. Dave Benson Phillips is a real exuberant character, and is always very over the top which only makes him more loveable!
Dave Benson Phillips is now playing himself in an online mockumentary Getting Back With Dave Benson Phillips, proving he's not afraid to send himself up a bit, and further proof that he's a household favourite then and now.
A few tributes to some favourites who left us:
Tony Hart
Amazingly talented, and always remembered for his animated pal, Morph, Tony Hart was a big part of a generation's childhoods. Hart Attack was one of those wonderful programs that everyone loved. In 2006 Tony Hart sadly had two strokes, leaving him sadly unable to draw anymore which he found devastating, and he died peacefully 3 years later.
Jeremy Beadle
Another stalwart of the time, appearing in lots of shows including Beadle's About and You've been Framed, Jeremy Beadle sadly passed away in 2008 after suffering from pneumonia.
Keith Chegwin
Not many people will ever be able to claim the kind of career Cheggers had, he had a special place in everyone's heart and over recent years would send himself up regularly, never taking himself too seriously. Sadly leaving us for the great Swap-shop in the sky at the end of 2017, Cheggers was one of a kind and he will be missed!
How many of these greats do you remember from your childhood? Who have we missed off? Let us know in the comments as always!