It was a different time when we were growing up. When we finished school on a Friday, unless we'd already made plans it would generally be Monday before we heard from our mates again, there were no mobiles to text and no Social Media to tag each other in.
There were no DVD's, so if you wanted to watch something it was either on TV or VHS and films would take upwards of 18 months to make it from cinema to video, not the 3 – 6 months we see now. It would take about 5 minutes to rewind the video in the first place as you'd inevitably forgotten to rewind it after it was last watched. Then it chews up and gets tangled and you're screwed unless there happens to be something good on the 4 channels available on the TV!
So what do you do? Well for us, it would always be a case of turning to a classic board game to help pass the time. We had so many to choose from, an entire cupboard dedicated to board games, which of these do you remember, and which were your favourites?
Trivial Pursuit
The classic trivia game, with questions about History, Geography, Sports, Entertainment, Arts and Leisure and Science and Nature. The aim of the game to keep answering questions, go round the board until you answer the wedge questions to complete your "cheese". Everyone had a favourite category and one they dreaded having to get as the last piece of the cheese – which were yours?
Trivial Pursuit Young Person's Edition
Same again but with questions for a much younger audience, this way we could play Trivial Pursuit with the adults, each answering the questions from their box and using the same board – this was a great addition that opened the game up to the whole family to play.
The Neighbours Game
The Soap Opera that everyone watched at 17:35 every evening was translated to a board game that was genuinely entertaining. The aim to fill in the board with a new script, adding in character cards or plot lines, this was the only game where Mrs Mangle could get married to Bouncer the dog then run off to join the foreign legion!
Ghost Castle
A very original game with a board that was almost like a character in itself, with parts that moved or got involved with the game, as you tried to escape from a haunted castle. It kind of lost its appeal a bit after multiple plays, but was always great to get out if you had a friend round who had never played it.
Lost Valley of the Dinosaurs
A classic board game from the time that has disappeared in to obscurity, Lost Valley of the dinosaurs saw you racing against your friends to be the one to claim the lost treasure in a hidden valley, with dinosaurs on the land and in the sky trying to stop and to eat you! Who will get the treasure first, and will anyone even make it out alive?
Dingbats
A really tough game, especially as a kid, the aim to get round a board that was similar to snakes and ladders in that you often had to go up or down the board depending on the throw if the die. You then had to answer the "Dingbats", cryptic clues that needed to be solved, and were usually quite difficult to work out, but you always felt great when you got one right with about three seconds of the timer left!
Risk
"The game of global domination" Risk would take hours to play properly, as you strived to take the countries off your friends, using the dice to determine who wins the throw and who wins loses what pieces of their armies. The feeling of satisfaction when you invade a small country and end up taking the whole continent within a few turns is only beaten by having a couple of small armies left, but somehow miraculously throwing 6 after 6 and holding off the invasion from your enemies so they have to retreat while you both re-strengthen ready for the next fight a few turns later.
Brit Quiz
A kind of Trivial Pursuit with questions only about Britain, as you make your way round Britain, answering questions about everything to do with the British Isles, with up to date questions (in the mid-80s) and plenty based on historical, entertainment, or sporting history, a great alternative to the more popular Trivial Pursuit.
Game of Life
The game that sees you born, go through school, college and (potentially) university, before getting a job, settling down and raising a family in a race to get to retirement with as much money as possible. The cars weren't very versatile though with only room for 4 kids, I clearly remember one game where I ended up with 6 and two were just running behind the car for the majority of the game!
Scattergories
One of my personal favourites, you would roll the special die with multiple sides to pick a letter, the get 3 minutes to come up with answers to the chosen list, hoping to get answers that no-one else does. If others get the same word then no-one scores a point, but other tactics come in, get an answer with the same letter at the start of both words, for example "Mickey Mouse" for a fictional character and you score 2 points not 1, so there were ways to really jump ahead of your rivals provided they don't think of the same answer!
Yahtzee
The classic dice game, where you had to get as many points as possible by throwing as many of one number as you can, getting a full house (three of one and two of another), three of a kind, four of a kind, high and low straight and of course Yahtzee (5 of a kind), this was a classic game that would see you lose many hours as you had to have just one more go or win at least one of the rounds you're playing!
Monopoly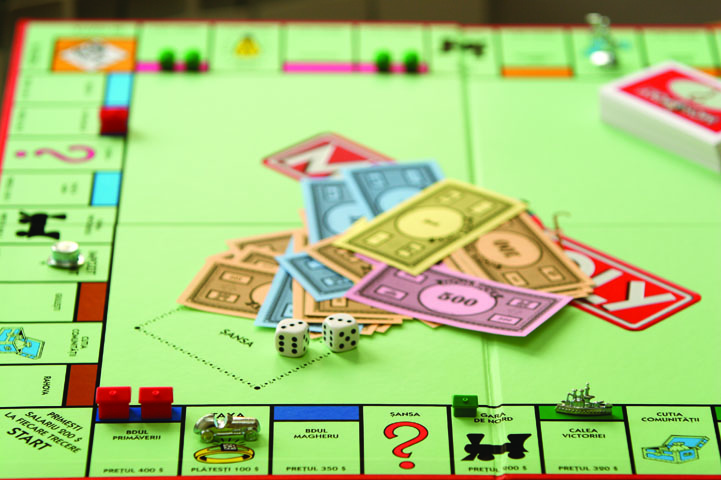 The most divisive board game of all time – do you love it or do you hate it? Personally I love Monopoloy, the time it takes to build up your property portfolio, and then to build houses and hotels on the streets you've bought. The feeling of elation as you land on Income tax between Park Lane and Mayfair that have hotels on – even though you have to fork out a bit of cash, it's not £2,000! The feeling of elation when someone lands on The Strand with your hotel on, then throws a 1 and a 2 and lands on Trafalgar Square with your other hotel on! The feeling of dread when the roles are reversed! A proper game of Monopoly could take 3 – 5 hours to complete, and was well worth staying up until 3 in the morning to complete! Unless you hated it. Unless it wasn't!
Which of these board games get those memories flooding back? Which ones took up the days of your summer holidays? Which was the go to game when the video player ate yet another of your favourite films? Let us know in the comments!