Friends was the pop culture phenomenon that dominated our television screens throughout the 90s and 2000s. It was created by David Crane and Marta Kauffman in the 90s, first airing in 1994 and eventually ending after a ten-year run with one of the most-watched series finales of all time. The six main characters were made up of the clean-freak chef Monica Geller and her older brother Ross, a dinosaur-loving professor; quirky masseuse Phoebe Buffay; struggling actor and ladies man Joey Tribbiani; funny guy and data analyst Chandler Bing; plus preppy ex-cheerleader Rachel Green. Although everybody secretly had a favourite Friend, it was the amazing chemistry between the six characters, as well as their interactions with a whole host of friends, family members and ex-lovers, which really underlined the show's success.



The series regularly brought in millions of viewers around the world, and the final episode was watched by 52.5 million people in America alone. However, despite the show's huge success, there might still be some things about the US sitcom that you weren't aware of. In the list below, we take a look behind the scenes of Friends and bring you 15 things you never knew about the series…
1. Matt LeBlanc was completely broke when he auditioned for the series
Thanks to the massive success of Friends, as well as his other projects such as Episodes and Top Gear, Matt LeBlanc is currently worth around $60 million! However, things weren't always so rosy for the actor. When LeBlanc first auditioned for the role of Joey, he only had $11 in his bank account. After the cast members received their first pay checks, LeBlanc went out and treated himself to a hot dinner. Courteney Cox – who was already an established actress – bought a car.
In hindsight, we bet LeBlanc was very relieved when he won the part of Joey. However, he nearly messed things up completely when he turned up to the audition with a massive cut across his forehead. Apparently, the night before he had tripped over and banged his head against the edge of a toilet seat. Oops!
2. The infamous white dog statue actually belonged to Jennifer Aniston
Remember the hideous white dog statue that Joey buys when he makes it big? Well, it actually belongs to Jennifer Aniston! Apparently a friend gave it to her as a good luck present when she first started acting. Aniston can't have been that keen on the gift (who can blame her?!) because she quickly offered to lend it to the series for the episode in which Joey becomes rich after earning a recurring role on Days Of Our Lives. After the episode, producers loved the prop so much that they decided to keep it for future storylines.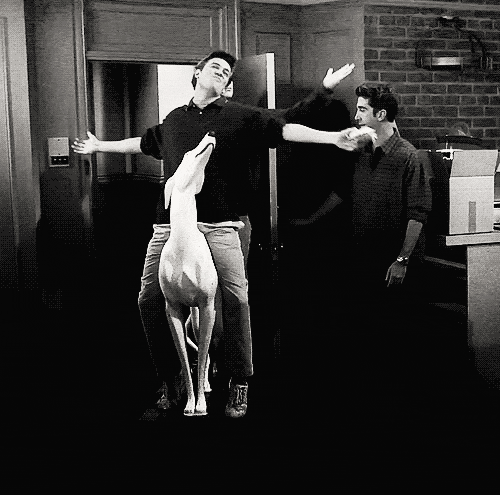 3. Matt LeBlanc used to have a crush on Jennifer Aniston!
Matt LeBlanc revealed some juicy gossip from the set of Friends when he did his exit interview for the book Friends…Til' the End. The actor confessed that he had a huge crush on Jennifer Aniston when they began filming season one. He wasn't too embarrassed about the admission, though, and stated: "Now I had a little crush on Jen in the very beginning, but I think the whole world did too, so what are you going to do?" We wonder how he felt when he first found out about the Joey-Rachel love story in season 9! LeBlanc was probably gutted it didn't happen eight or nine years earlier instead.
4. When the series first aired, networks weren't keen on theme songs during the opening credits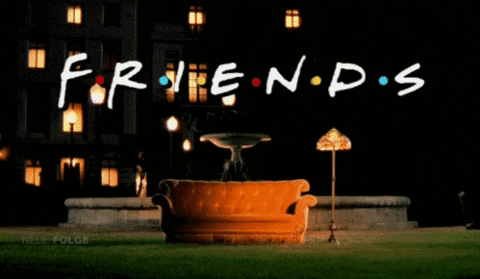 The Friends theme tune is one of the most iconic pieces of music in television history. However, when the series first aired in the 90s, TV networks were starting to get rid of theme songs during the opening credits. This quickly changed once "I'll Be There For You" went straight to #1 on the Billboard Hot 100! It played incessantly on radio, TV and in supermarkets, generating a ton of extra publicity for the programme.
The theme was written by two producers and then offered to several bands before they eventually decided to go with The Rembrandts. Eventually, a DJ at WYHY in Nashville looped the original theme into a full length song and the response was so enthusiastic that the band created a single version. They added an extra verse, a vocal bridge and repeated the chorus four more times! Thanks to their efforts, the track went to #1 in the US and three other countries.
5. The Central Perk set changed a lot over the course of the series
Fans of the series might not remember that back in the first season, there was no street visible outside Central Perk, the much-loved coffee joint regularly frequented by the main characters. All that could be seen was a painted backdrop just behind the glass, which was disguised by some very blurry windows and lots of indoor plants. Furthermore, the set of the interior was constantly changing – in fact, the artwork in Central Perk changed every three episodes. One to look out for next time you have a Friends binge on Netflix!
6. Hank Azaria was rejected for the role of Joey twice
Friends fans will always know Hank Azaria for his role as Phoebe's geeky longtime love, David. The stammering scientist somehow managed to make roll neck sweaters and thick frames sexy, but sadly his relationship with Phoebe was always being hampered by his research in Russia. However, did you know that Azaria originally auditioned for the role of heart throb Joey? After his initial rejection, he begged producers to let him read for the part again and was refused for a second time. Instead, he became the scientist boyfriend that fans of the series fell in love with.
7. Marta Kauffman suggested the storyline where Phoebe's cat is her dead mother 'reincarnated'
Phoebe was always the kookiest character on the series, and fans will definitely remember the episode where she believes that her dead mother has been reincarnated as a cat. It wasn't one of the funniest story arcs in the show, but it was written by series creator Marta Kauffman after her own mum passed away (the episode was dedicated to her). One of the writers later admitted in an interview that the concept would have been immediately rejected at the table read, but nobody wanted to say 'no' to Kauffman under the circumstances.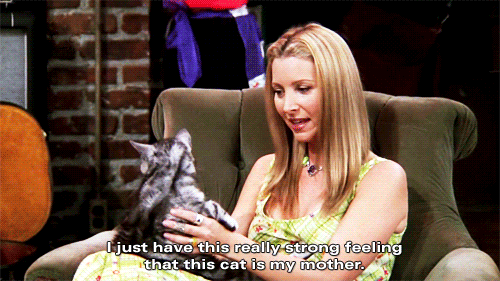 8. Each of the Friends are named after characters from All My Children
Any All My Children fans out there will have noted that each of the six main characters are named after various characters from the popular soap opera. Ross is named after Ross Chandler, Joey is for Joey Martin, Chandler gets his unusual first name from the Chandler family, Monica represents Monique/Daisy Cortland, Rachel Green is linked to Janet Green and Phoebe is named after Phoebe Tyler Wallingford.
9. Ross's second wife Emily had to leave the series a lot sooner than originally planned
Helen Baxendale, who played Ross's second wife Emily in the series, had to leave the series a lot sooner than producers had originally planned. This is because British actress Baxendale became pregnant in-between filming for season 4 and 5. She couldn't keep travelling to the set from England, so her character Emily had to disappear from Ross's life somewhat abruptly. You may also notice that in her last few appearances, she is wearing heavy clothes to hide her bump and the camera often zooms in on her face.
10. Gunther, Jack and Judy Geller are the only non-Friends to appear in every season
Of course, audiences around the world instantly fell in love with the six main characters, but it was the popularity of the many recurring and guest characters that really helped contribute to the success of Friends. Quirky coffee shop owner Gunther (James Michael Tyler), plus Jack and Judy Geller (played by Elliott Gould and Christina Pickles), are the only non-Friends who appear onscreen in all ten seasons. Chandler's irritating ex Janice (Maggie Wheeler) nearly managed the same feat, but in season six she only had a voice-over role in the episode where Chandler and Monica make Valentine's gifts for each other.
11. Lisa Kudrow's family immigrated from Minsk
Phoebe's boyfriend David famously broke her heart when he decided to pursue his scientific studies in Minsk rather than stay in NYC. Funnily enough, Lisa Kudrow's relatives originate from this exact part of Belarus. She discovered during filming that her ancestors emigrated from a village in Minsk – quite the coincidence!
12. The duck and the rooster didn't get along off-camera
Who can forget the cutest characters in the series, the chick (later rooster) and the duck who were adopted by Joey and Chandler. The two friends became surrogate parents for the unusual pets, whom they rescued after Joey saw a documentary about people who buy chicks around Easter time and then don't bother looking after them properly. Sadly, the two animals didn't always get along in real life, and there is outtake footage of the duck and the rooster having a fight with one another.
To add to the drama, Lisa Kudrow suffers from a fear of birds and was particularly scared of the duck. In the scene below, she bravely overcomes her fear to listen to the two animals recounting a story about their day.
13. Apparently Jennifer Aniston and Reese Witherspoon didn't get along during filming
Reese Witherspoon was a hugely popular guest star on Friends, and played the role of Rachel's younger sister, Jill Green. However, rumour has it that the reason Reese didn't return is because she and Jennifer Aniston didn't get along. Aniston reportedly asked the writers not to give her a role in any future episodes and instead to write in a part for her other sister Amy – who was played by Christina Applegate – for two episodes.
However, we seriously doubt that this was the real reason Witherspoon never returned. The two actresses have been photographed together plenty of times since Jill's first appearance on the show, and both women have referred to each other as good friends in recent interviews.
14. All of the main characters have been mistaken for being gay at some point in the series
Although all of the six main characters are heterosexual, they've all been mistaken for being gay at one point in Friends. Monica's new maid thinks she's gay when Monica ends up staring at her crotch when trying to identify some stolen jeans. Ross tells off his male student for trying to charm better grades out of him and the discussion accidentally looks like an impassioned break-up in front of some college professors. Rachel once kissed her old college friend Melissa, who tries it on with her years later after she thinks Rachel still harbours feelings. Joey has a huge gay fan-base thanks to an interview he did with Soap Opera Digest, whilst Phoebe pretends to be one of Ben's lesbian mothers to try and get free tickets to a Sting concert. And Chandler? Most people think he's gay, all of the time.
15. Monica, Rachel and Phoebe were all given unconventional experiences of pregnancy and motherhood for a reason
According to the show's producers, all three of the female leads were given unconventional pregnancies and experiences of motherhood for a reason. They wanted to promote the idea that surrogacy, single motherhood and infertility were nothing to be ashamed of, so Rachel became a single mum, Phoebe gave birth to her brother's triplets and Monica turned to a surrogate for help in conceiving.
Did you know any of these facts about Friends? Tell us about some of your favourite moments from the series in the comments section below!