30 long years have passed since Daniel and Johnny went toe to toe on the Karate Kid, but the pair are making a dramatic return to our screens. Their hooking up once more for a TV sequel for YouTube Red, and we've been granted a peak of what's to come .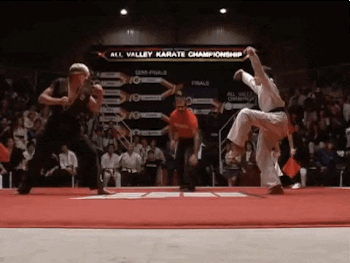 Ralph Macchio and William Zabka, the original stars of the cult 80's movie, return to their roles after 30 years. They'll be featuring in a 10 episodes of the series, for the Netflix-rival subscription service.
The story will take place three decades after the events of the 1984 All Valley Karate Tournament. Coba Kai revolves around a downbeat Johnny, who seeks redemption from the first class, and reopens the dojo.
"We are not trained to be merciful here, mercy is for the weak." Johnny tells his students in the trailer.
The rekindled rivalry with Daniel, who has made a success of himself. He is however struggling to find a balance in his life without the guidance of former mentor Mr Miyagi.

Jaden Smith, son of Holywood great Will Smith, starred in the 2010 remake. Will features as an executive producer alongside his brother-in-law Caleeb Pinkett.
Youtube Red has made no announcement of a release date for the scheduled series, but er are aware it will be sometime in 2018.
That said, if you do want to catch the new hit series, you'll need to have an account with YouTube Red.
What is YouTube Red, I can hear you inquisitively ask.
Matt Raub, director of content at Smosh games, broke it down to Polygon back in October, explaining that YouTube Red differentiates between regular content on YouTube, and also offers more renowned shows that could compete with other services such as Hulu, Netflix, and Amazon Prime.
"You've got your YouTube where everyone can be a creator and you're just a person with a cellphone, sitting in a bedroom, making a video, while other creators are working on projects where someone is dropping hundreds of thousands of dollars on someone making a professional TV show.
"So, YouTube Red kind of draws a line. "
CEO Susan Wojcicki disclosed that YouTube Red is aiming to compete with the streaming services currently dominating the industry.
"Our goal is to be a large, leading video platform and have a large diverse set of content," Wojcicki said.
"This year, you'll see Red expand into many more countries," she added. "We're only in five countries right now. Now that we've finished all of our music deals we're actually going to be expanding to a much larger number of countries."
The service is to cost $10 a month for subscription, and the video playback is reported to be smoother, as it allows you to skip adverts prior to videos.
YouTube Red ensures you will not see such annoying ads on its videos. On the following devices, you can enjoy ad free videos using the service.
YouTube and YouTube Gaming apps for Android and iOS
Chromecast
Android TV
Apple TV
Consoles: Xbox 360, Xbox One, Wii U, PlayStation 3 and PlayStation 4
Roku (LT, 1, 2, 2 HD, 2 XD, 2 XS, 3, Streaming Stick, Roku TV)
Supported smart TV's
Other benefits of the service include offline viewing, and listening to videos with the screen off. Meaning all the times you want to just listen to tunes on your phone, and having to leave the app open, are over.
These features are available on the YouTube, YouTube Kids, and YouTube Gaming apps for Android and IOS.
It gives you the ability to actually download YouTube vids to your phone, or tablet, and they will remain available for up to 30 days to watch without a connection. Whilst offline however you can't comment or like the videos.
Another perk is you will receive a free monthly Google Play Music membership, which would normally cost another $10 a month. The opposite is applicable as well, if you hold a membership to Google Play Music, you'll get access to Red free of charge.