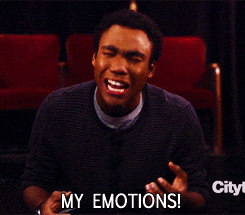 It's no secret that many, many soldiers are often assisted by dogs while on duty, which makes sense because there's literally no other animal on this planet who could loyally protect the brave men and women who risk their lives to loyally protect us.
It also makes sense that while working with these dogs, the soldiers build strong, unbreakable bonds with these amazing, furry, four-legged creatures  (heck, I build strong bonds with dogs I pet for 5 seconds).
So many of these dogs work in the front of front lines and do vital work in detecting explosives along the paths that are literally about to be trodden on by our brave soldiers, basically putting their lives at risk to help them.
When the time came for Sergeant Jason Bos to finally retire from duty back in 2012, he was consequently separated from his own K9 partner Cila, who had to remain with the army. He was absolutely heartbroken.
But then one day, the fantastic news reached him that his beloved partner in crime had also now retired! So what did he do? He set about trying to get her back to him as quickly as possible. But he couldn't do it alone, so he enlisted the help of some very special friends to get this incredibly emotional reunion arranged.
"Couch Potato Life"
And so, with the help of the American Humane Association and Mission K9 Rescue, Cila was eventually flown all the way from Germany to Chicago in order to reunite her with her long lost pal Sgt. Bos at O'Hare International Airport.
During the most tear-jerking reunion I've witnessed to date, Cila goes absolutely CRAZY when she hears Sgt. Bos' voice, she is so so happy and it's evident in her reaction. Just thinking about it is making me well up all over again!
Sgt Bos himself could barely contain his excitement, after waiting for this moment for so long. He said that Cila will be living the ultimate "couch potato life" the minute she reaches his Michigan home – aka her new forever home.
Want to see this amazing reunion for yourself? Just watch the video below! (But I'm warning you, you may wanna have your tissues ready at hand)
May they both finally get the rest they deserve! One thing is for sure, the two are truly happy to be side by side once again!