I'm sure that I don't need to tell you that Steve Irwin was the lovable, Aussie 'Crocodile Hunter', whose passion for all creatures great, cute, scaly and slightly dangerous, won him the hearts of millions of people from around the world.

After his sudden and tragic death in 2006, after a fatal encounter with a Stingray, the world mourned the loss of a wonderful man whose kind nature, sense of humour and enthusiasm for nature and conservation, entertained and inspired the hearts of everyone who knew and watched him.
However, his family have since made it their mission since he died, to carry on his work, by channelling all their strength into continuing where he left off and honouring his legacy.
His loving wife Terri, daughter Bindi and son Robert are now very keen to prove that paying tribute to Steve's work must go much, much further than just posing on TV & being pictured with fluffy animals.
"I think now, even more so than when Dad was around, our wildlife is really being depleted as such an incredibly rapid rate," Robert, 14, told sources.
"I think it's so important that we can learn to love and respect all animals and natural places, not just the cute and cuddly creatures.
"There's always a call for koala conservation or animals that are very lovable, but things like crocodiles – the animals that you don't really want to go up to and just cuddle – aren't really in the forefront of people's minds."
The wise and true teen, speaking like a true copy of his father, and his sentiments are, of course, are echoed by the rest of the Irwin family.
"With our work with Australia Zoo and our non-profit organisation Wildlife Warriors, every single day of our lives is spent continuing Dad's legacy and making sure that everything he lived for and worked so hard for carries on into the future,"   Steve's 20-year-old daughter Bindi, explained…
"At Wildlife Warriors, we have conservation projects all over the world where we help rhinos and cheetahs in Africa or tigers in Sumatra. We have a wildlife hospital that rescues and rehabilitates over 77,000 sick, injured and orphaned native Australian animals."
The Irwins are currently involved with research projects that involve crocodiles in northern Queensland, Australia and also, a Sumatran tiger protection programme, where teams work tirelessly to dismantle illegal traps and find poachers.
& According to Steve's wife Terri, 54, you can always find something within your means to help out. Everyone can help out, regardless of their resources…
Terri stated to sources that,
"All of us have time and all of us have money – and of course that's to varying degrees for each and every person, and we're really enthusiastic about people getting involved to their best ability,"
"In other words, you don't have to dedicate your life to writing songs and making that your career just because you love music, you can still love music. And you don't have to be on MasterChef just because you like to eat nice food; you don't have to be a top chef to enjoy a beautiful meal.
"And it's the same with conservation, You don't have to dedicate your entire life to make a really positive change, so if you've got time, you can do little things – recycle, turn off the lights when you leave a room, turn off the tap when you brush your teeth, that sort of thing really helps.
"And if you can volunteer in your local community, you can do something to help – if there's a clean-up-the-park day or plant-a-tree-day – and then all of us have funds we can put towards things that are so important," she explained…

What beautiful and wise words from a very loving and dedicated family, I'm sure that if Steve were alive today, he would be extremely proud of all they have done to conserve and protect the creatures which he held so dearly to his heart.
& Of course, those of us who share that passion and enthusiasm, should roll up our sleeves and do the best we can to help their cause and ideals, as Terri said, there's always something we can do and it doesn't always have to involve money, sometimes, action is better than just throwing money at a cause and hoping for the best.
I personally think the work they are doing is amazing and I think spreading the message to respect and love all of earth's creatures is so important and especially to our younger children, the earlier they learn the importance of our wildlife and nature around us, the better.
& That's something that Steve & Terri obviously achieved with flying colours with their two children.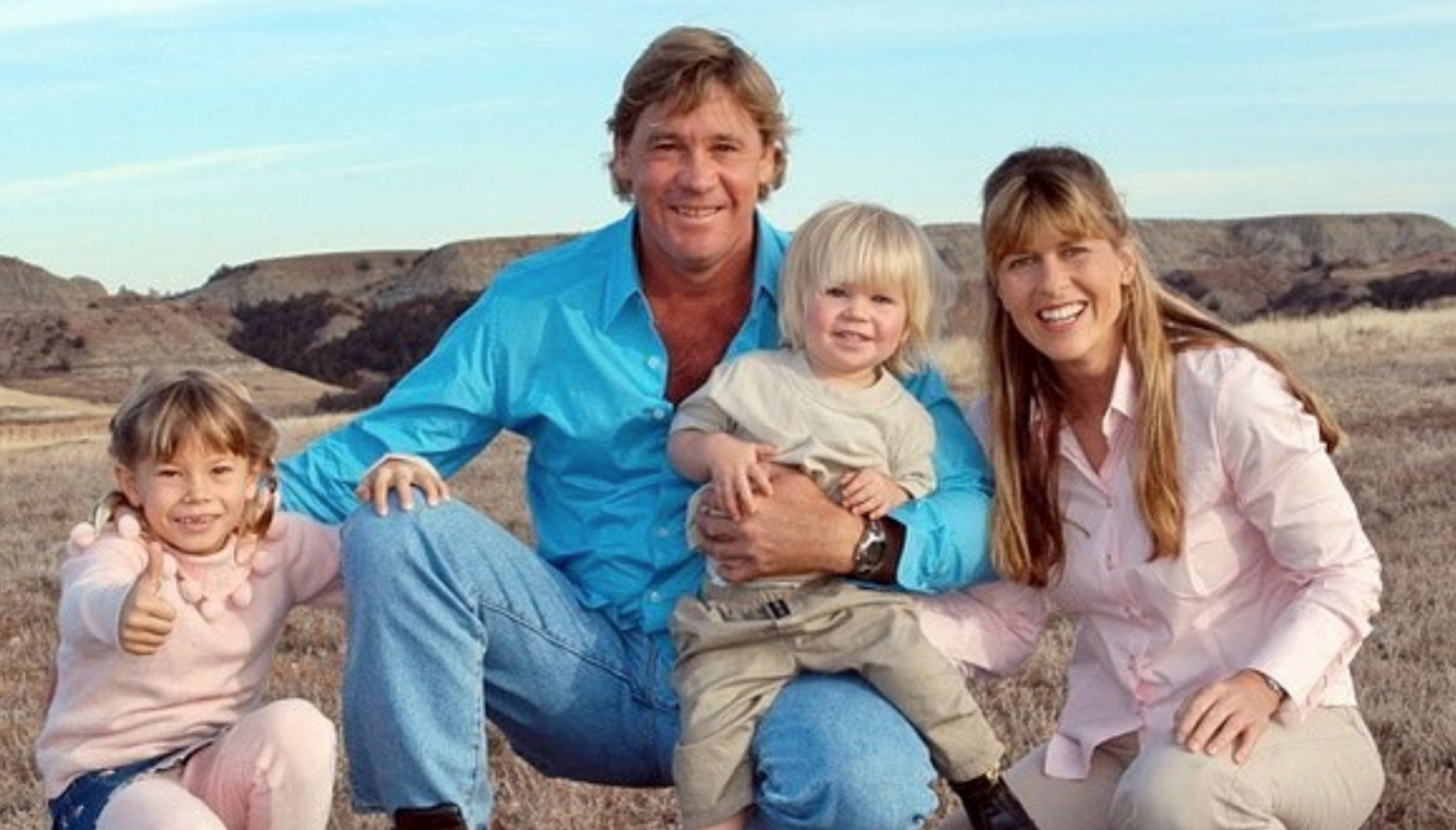 "I think that that message is so important now," Robert said.
"The younger generations are the people that are really going to be making a difference in the future."
They certainly are, Robert!
What an inspiring family and what a gift they are to the world of our weird and wonderful wildlife. Keep being you, Irwin family!
Crikey! It's the Irwins airs Sundays at 8pm on Animal Planet.