If you spent any time in the 80's dreaming about the perfect, movie star husband, then I'm sure that one of these delectable men from the 80's probably made your list. They were the hottest, most sensitive, attractive men to hit the big screen and many ladies fell head over heels for them.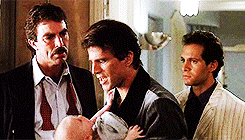 But which one is meant for you?  This quiz will ask you a series of questions about what you are looking for in a man and relationship and then it reveals to you which 80's movie star is your perfect pick!
I was instantly shocked at the answer that it gave it!  Honestly, it was perfect!  Imagine someone being so in love with you that he holds up a  boom box outside of your window to blast your favorite, romantic song.
If you haven't guessed by now, my movie star man would be Lloyd Dobler from "Say Anything" because I need a hopeless romantic like Lloyd to fill the fairytale plotline in my life.  Sounds about right to me!  It really says it all when he does this for her.  I couldn't imagine that ever happening to me but it's a nice thought.  Find out who your 80's movie man is right now: