The Gilmore Girls Cast And Their Real Life Partners
Remember these fresh-looking, friendly faces? Well, you should, because for 7 years you saw them on your tv screens while becoming an honorary member of the beloved Stars Hollow community. And aside from Netflix blessing us with the "Gilmore Girls: A Year In The Life Of" mini-series back in 2016, we've heard very little else from our favorite community.
*


Well never fear! Because I'm to satisfy your craving for a little 411 on the cast of GG (That's slang for "Information on the cast of Gilmore Girls" for all you non-hip people out there).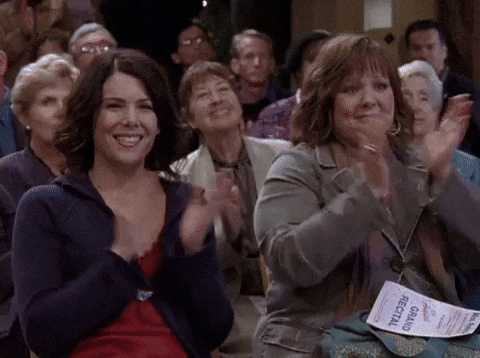 There were many reasons we loved the townspeople of Stars Hollow, from their varying quirky personalities to their infatuation with all things gossip-related. But one of the essential reasons we kept coming back for more every week was to see how their incredibly intricate (and often wildly confusing) romantic relationships turned out (i.e. Lorelai and Luke?? Will they?? Won't they?? What about Christopher?? Wait Luke has a daughter?? OH how it killed me!)
But what were their relationships like offscreen? Y'know, out in the real world. Have you ever wondered? Well, I have, which is exactly why I've been out there doing a little research on the matter myself, and below is a list of everything I discovered. So what are you waiting for? Enjoy!
*
1. Lauren Graham and Peter Krause
What would Gilmore Girls be without Lauren Graham, a.k.a. Lorelai Gilmore? Well… probably just Gilmore Girl, if we're going to be pedantic.

But really though, Lorelai is pretty much the nucleus of the entire show, and for a good reason! We could never wait to see what kind of mishaps she would get herself into with every new episode.
We were also obsessed with her continuous love triangles. Remember when she finally got with Luke and we were like, yep, okay the show can end now I'm good… but it DIDN'T and then they broke up and the world basically ended right there and then? No? Just me? (Liars.)

*
But what I never thought about was the fact that off-screen, Lauren Graham probably has her very own relationship going on that we didn't even know about! (weird, right?) And guess what, I was right! And as it turns out, it's nowhere near as complicated as her onscreen relationships were.

Lauren Graham has known Peter Krause since 1995 after they both appeared in the sitcom Caroline in the City. However, it wasn't until they played brother and sister in Parenthood back in 2010 that they actually began their relationship… and they're still together today!
2. Alexis Bledel and Vincent Karthaiser
And of course, the second most important Gilmore Girl (can I say that?), Rory. Rory is the other half of the insanely quick-talking Gilmore Girls duo, and during the first couple of seasons, quite the do-gooder.

That is until she started hanging around with those darn boys.
*
You remember them right? Jess, Dean, Logan… safe to say that for such a good girl, Rory certainly managed to have her fair share of romantic entanglements.

But just like her on-screen Mom Lauren Graham, Alex Bledel's off screen relationship couldn't be anymore different.

Bledel married her Mad Men co-star Vincent Kartheiser back in 2004 after beginning to date mid-2002. They're still together today and let's be honest, they're freaking adorable!
*
3. Keiko Agena and Shin Kawasaki
We all loved (and always sympathized) with Keiko Agena's character Lane Kim.

Lane's life was never exactly easy with the intense pressure her very traditional mother used to put on her on a daily basis. Luckily she always had her best friend Rory to turn to for emotional support.

Much like Rory, Lane Kim went through a rebel phase of her own. She joined a band, dyed her hair purple (but very quickly dyed it black again) and most importantly began dating (and eventually married) fellow band member Dave Rygalski. They even eventually had twins together!
*
Keiko is also married in real life, and has been since 2005.

After a decade-long romance, the two lovebirds tied the knot on a helicopter over Las Vegas on December 19th, 2005. Talk about rock and roll!
4. Melissa McCarthy and Ben Falcone
These days Melissa McCarthy is a household name, however back in the early days of Gilmore Girls, she was mostly known for playing the absent-minded chef and lovable best friend of Lorelai Gilmore, Sookie St. James.

Sookie was the sweetheart of the show, and between dishing out the best meals in Sras Hollow, she was also pretty great at dishing out the best advice!
*
Especially when it came to Lorelai and her never-ending problems.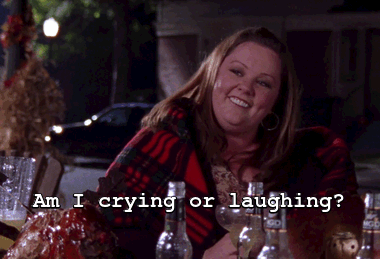 Later on in the series, Sookie becomes romantically entangled with her "Vegetable Guy" Jackson Belleville. The two eventually got married and had an adorable little boy named Davey.
McCarthy's real-life relationship, however, is probably my all-time favorite in Hollywood (Sorry, Blake Lively and Ryan Reynolds). Melissa first met her producer husband Ben Falcone at The Groundlings (an LA improv. school) in 1998 and tied the knot in 2005, and they're still together today.

Not only are they still together, but they frequently appear in the same movies and shows together too! In fact, Ben even had a small cameo in Gilmore Girls!
*
Don't believe me? Well, in that case, it's a great excuse for you to go back and watch the whole thing again to see if you can spot him!
5. Scott Patterson and Kristine Saryan
Scott Patterson plays the seemingly grouchy owner of the hottest spot in Stars Hollow, Lukes Diner – Luke Danes.

Despite his grumpy demeanor, Luke was always there to give a helping hand to anybody who needed it (albeit, while often complaining about it every now and then)
There was one member of the Stars Hollow community he especially didn't mind helping out when she needed it, and that was, of course, Lorelai Gilmore (and boy, did she need it often).
*
Luke and Lorelai's relationship is definitely what you would call a "whirlwind romance", especially with the added factors of Lorelai's ex-husband Christopher, Luke's nephew Jesse and how can we forget… his secret daughter!

In 1983 Patterson was married to a woman named Vera Davich, however, they divorced 2 years later and very little is known about their relationship, except for the fact that they were high school sweethearts.

Then in 2001, Scott Patterson married fellow Gilmore co-star Kristina Saryan (she played a character called "Chrissy" on the show) and the couple have been together ever since.
*
Glad to hear he was at least able to settle down eventually, unlike poor Luke Danes!

6. Kelly Bishop and Lee Leonard
If you weren't already aware of Kelly Bishop's existence before Gilmore Girls then I'm sorry but, do you live under a rock? Kelly Bishop stars as Lorelai's very well-to-do, upper-class Mom (making her Rory's Grandma, obviously) Emily Gilmore, who is more often than not, very disapproving of Lorelai's lifestyle.

Despite all the disdain Emily felt for her daughter (i.e., having a child at 16 out of wedlock), she adored her Granddaughter Rory… do you see the irony? But she saw the potential Rory had and was adamant that she would not go the same way as her mom (Lorelai) did.
*
She did everything she could to try and support Lorelai and Rory despite their differences but sometimes couldn't help meddling in affairs she really wasn't welcome in. And I've got to say, she played the part beautifully.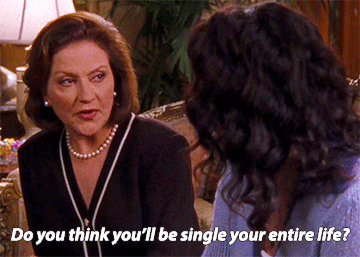 But as I said, this wasn't her first time in stardom. Her most well-known part was as "Baby's" mom in the 80s coming-of-age classic Dirty Dancing. 
Did you know that she is actually 1 half of a power couple? That's right! Kelly Bishop is currently married to Lee Leonard, a big-time, golden-age TV Talk Show Host on shows such as "Showbiz Today" (Hmmm… really showing my age now aren't I?)

The pair have been married since 1981 and fun fact; Lee Leonard personality was actually involved in the launch of cable television networks ESPN and CNN! You go Lee!
*
7. Edward Herrmann and Star Herrmann
Edward Herrmann played head of the Gilmore Household, Richard Gilmore.

Richard was a lot more forgiving towards his daughter Lorelai and tried to stay out of the Mother/Daughter drama as much as possible, much to Emily's dismay.
Richard is a stern, hard-working, old-fashioned husband and father (and of course grandfather), who enjoys cigars, golfing and brandy. He tries very hard to keep in lines with the traditional life of high society, with its class structures, rules and concepts of appropriate behaviour.

Herrmann was originally married to his longtime, screewriter girlfriend Leigh Curran in 1978 but the marriage ended 1992.
*
The path into his second marriage wasn't quite as conventional, as prior to it Star Hayner Roman (his future second wife) actually filed a paternity suit against hi after he had fathered a child whith her while filming Harrys War in 1981… Not very traditional now are we?

There was a happy ending however, as Edward and Star eventually tied the knot in 1994 and had two daughters Ryen and Emma. Star also brought with her a stepson from a prev ious marriage, Rory (talk about irony!). Sadly, Edward Herrmann died of brain cancer in 2014. R.I.P Ed.
8. Sean Gunn and Miranda Bailey
Who could forget the quirkiest Star Hollows townsperson of all (and thats saying something), Kirk Gleason.

Kirk was an incredibly eccentirc character, who seemed to have a new career path in every episode. He was also Luke's Diner's number 1 customer… although I'm pretty sure that Luke probably wished that he wasn't.
*
Although Kikrk was often seen alone on the show, there were a few appearences by his onscreen girlfriend "Lulu Kuschner", and later on in the series it is implied that did become his wife. He also had a pesky cat to which he named… Cat Kirk. And in true Kirk style, Cat Kirk really hated Human Kirk.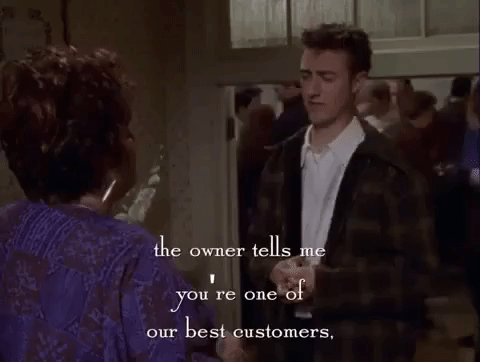 Funnily enough, Sean Gunn's offscreen relationships are just as illusive as his onscreen ones. He's been linked to many women in the past (and no wonder… look at him! He's turned into a total silver fox).
*
But the most recent link would have to be a certain Miss Miranda Bailey.

I'm not sure if you're aware of this, but over the past couple of years Sean Gunn snook his way back onto our screens (sort of) in the best way possible… and the above picture is a clue to how. That's right, he was actually in Guardians of the Galaxy… he was just a little shorter and a little furrier.
Sean (whose brother is James Gunn) actually does the motion capture movements for Rocket the Racoon (Bradley Cooper provides the voice) and while being honoured at the Guardians of the Galaxy premier,  Sean was spotted holiding hands with his producer girlfriend, Miranda Bailey.
*
9. Liza Weil and Paul Adelstein/ Charlie Weber
Ah, Paris Geller. You either loved her or hated her… but mostly it was a little bit of both.

She was a bothersome know-it-all who constantly rubbed us up the wrong way and was never exactly "popular" among the rest of her and Rory's peers… can't imagine why. In fact, at the beginning of the show Paris and Rory aren't even really friends. That only happens they're forced to work together as part of a school project.
After their friendship was formed, Paris did indeed become slightly more, likeable, I guess (I'm sorry, she just really used to rub me up the wrong way!).
*
Anyway, despite her more aggressive personality traits, Paris also had her fair share of romances during her time on the show. She even ended up getting married! But then er, separated, from her longtime boyfriend Asher Fleming.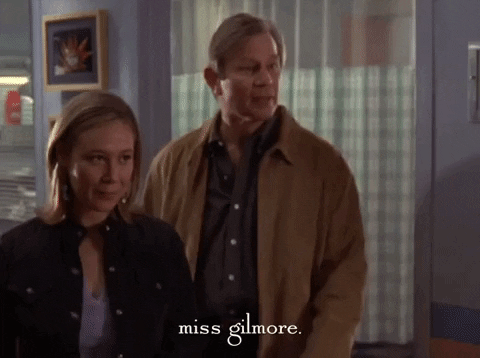 Unfortunately, this reigns true for her offscreen love life too. Weil was married to fellow actor husband Paul Adelstein between 2006-2017, and during that time they had one daughter named Josephine. Sadly, however, the Weil filed for divorce at the beginning of 2017 due to "irreconcilable differences".

A few short months after the divorce, Weil was then spotted acting loved-up with her How To Get Away With Murder co-star Charlie Weber.
*
They had been secretly dating for a year before making it public, and have said that they're "very happy together" and "really enjoying spending time with each other". Either way, it's great to see Paris finaly smiling!

10. Jared Padalecki and Genevieve Padalecki
Hands up who wanted a Dean in their life when they were Rory's age? Heck I'd take a Dean now at my age! Seriously though, what an absolute dreamboat!

Dean was the new kid in Stars Hollow and stumbled upon Rory in the halls of Stars Hollow High and was intrigued by how hard she was concentrating on reading her book (did somebody say swoon?).
*
From that moment started the very long and winding road we fondly refer to as young love. Rory kept their relationship secret for a loooong time, in order to keep it away from the scrutiny of her family, mainly her mother. However it was all uncovered when Lorelai spotted them both kissing at Doose's Market were Dean worked. The relationship spanned on and off over and over again throughout the series, and even resulted in him cheating on his wife with Rory in 2004.

Jared's relationship in real have however is a lot less complicated, and also kind of magical. He got engaged to his Supernatural co-star Genenvieve Cortese in January 2010. They met when Cortese guest-starred as Ruby during Supernatural's fourth season. JUST LOOK AT HOW ADORABLE THEY ARE TOGETHER!
*

Padalecki reportedly proposed to Cortese in front in front of their favorite painting, "Joan of Arc", by French realist Jules Bastien-Lepage at New York's Metropolitan Museum of Art in October 2009 and they are now the proud parents of three beautiful children Thomas, Austin and Odette. All I need to now is… does he have any much-older, single brothers???
11. Milo Ventimiglia and Kelly Egarian
Personally when I think about the Gilmore Girls, I can't help but get the feeling that the battle between Jess and Dean for Rorys affection was technically the original "Team Jacob/Team Edward " debate. And honestly… I'm still not sure which side I was actually on.

There was no doubt that out of the two, Jess was definitely the "Bad Boy"… but my gosh could he wear a leather jacket!
*
He's the troubled nephew of Luke Danes, and ends up at Stars Hollow when he is sent to live with his Uncle Luke by his Mom, in hope that he could be straightened out.

Rory is hopelessly devoted to Jess despite the fact that he keeps pushing her away (I mean, let's be honest ladies, that would probably have worked on us too). When Jess moves to New York, Rory ends up visiting because "she never said goodbye", shortly after Jess returns to Stars Hollow and promises to do better. Rory is so surprised to see him that she kisses him during Sookie's wedding… despite already being in a relationship with Dean. Draaamaaaaa!

Much to everyone's complete JOY Mile actually started dating his Gilmore Girls co-star Alexis Bledel (aka, Rory Gilmore, obviously) in 2002, and it looked as though every Gilmore Girls fans' from across the globe's dreams would come true (I was so ready for their wedding!).
*
However in 2006 our dreams were dashed when the couple eventually called it quits and completely ruined my life… yeah I'm still not over it okay?

In order to help myself get over it… I've recently started picturing Ventimiglia with his current onscreen wife Mandy Moore in the AMAZING TV show This is Us (if you haven't watched it yet then GO AND DO SO NOW!), however his actual girlfriend in reality is 31 year old marketing co-ordinator Kelly Egarian. They made their first public appearance at the Emmy's in 2017 and have allegedly been dating for over a year. Okay, I mean, she's no Rory, but she does seem pretty great, so I'll allow it.

So then, what do you think? Has it made you feel nostalgic for the streets of Stars Hollow at all? Are you as devastated about the demise of the Milo/Alexis relationship as I was? Well I certainly know one thing, after writing that I feel freakin' old! Who was your favorite couple from Gilmore Girls? Were you Team Dean or more Team Jess? Let us know in the comments on Facebook! And don't forget to share this with your friends, families and fellow Gilmore Girl fans! Have a great day, AA x
*