Kanye West interrupts Taylor Swift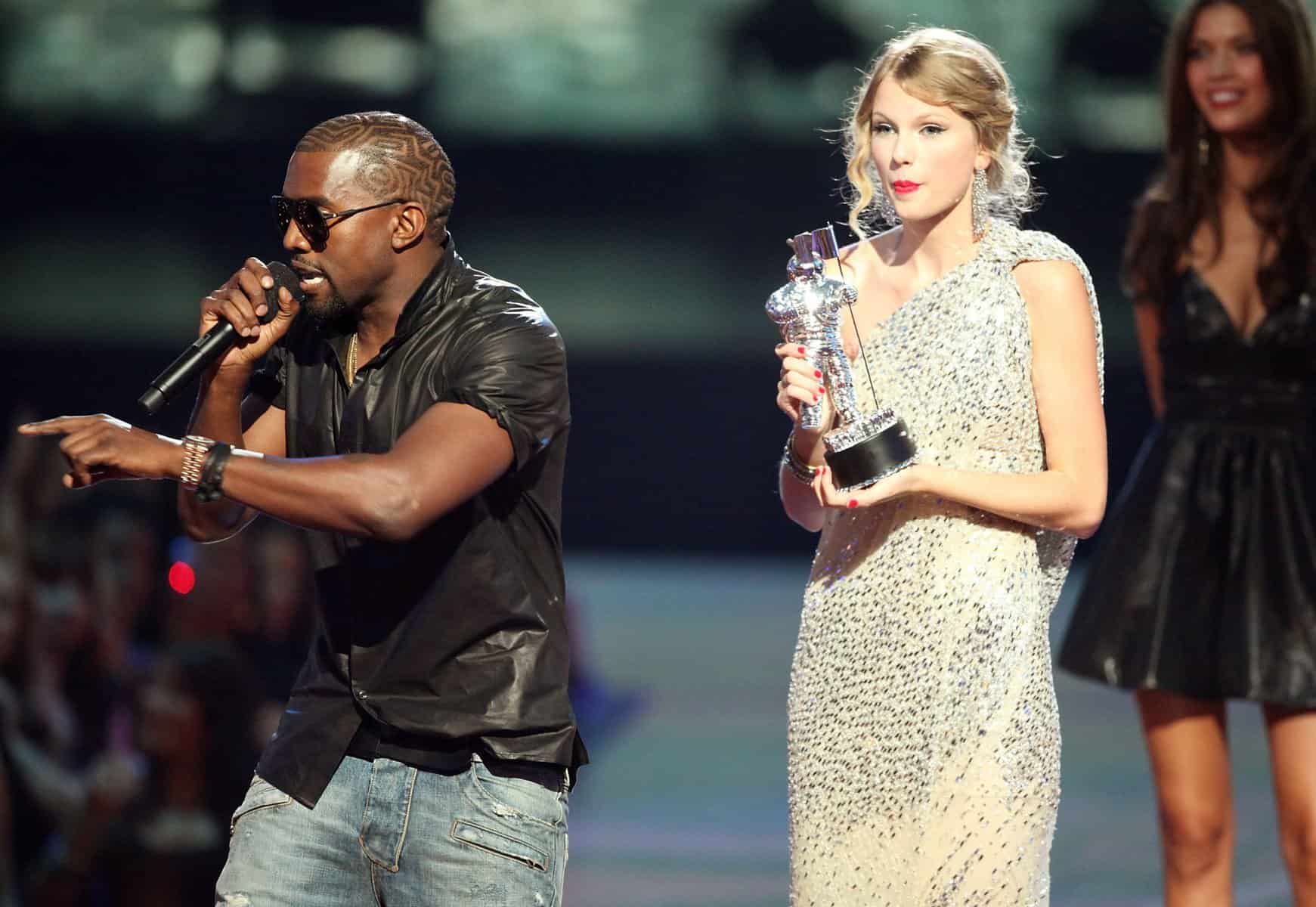 Photo by Christopher Polk/Getty Images
The 2009 VMA's were a whole moment in time! Young star Taylor Swift won the prize for best female music video for her tune You Belong With Me, but how was she to know that she was about to get berated right on stage for it? Kanye got up, grabbed a microphone, and decided to give his own little speech about how Beyoncé should have won the prize while poor Taylor Swift just stood by, unsure of what to do. It was just the start of cringe, terrible moments for Kanye, as we all know. Luckily, Beyoncé won a different award that night, and invited Taylor Swift up on stage to have her moment.
The Best Picture mix-up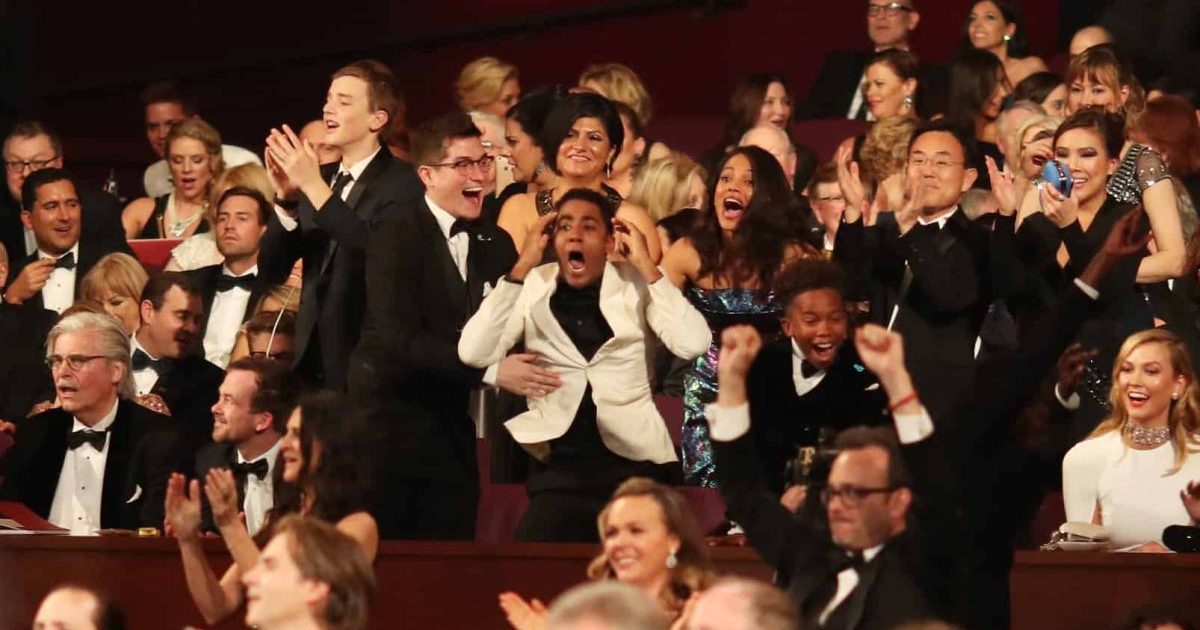 Christopher Polk/Getty Images
Anyone vaguely aware of pop culture in 2017 knows about the great Best Picture mix-up at the Oscars. La La Land and Moonlight were both up for the prize, and while the presenters read out La La Land as the winners, it turned out that they'd gotten the wrong envelope for the final announcement! It wouldn't have been so bad if the cast and crew hadn't already gotten up on stage to celebrate. The two films will forever be remembered as being connected, all because of poor coordination.
Adele Dazeem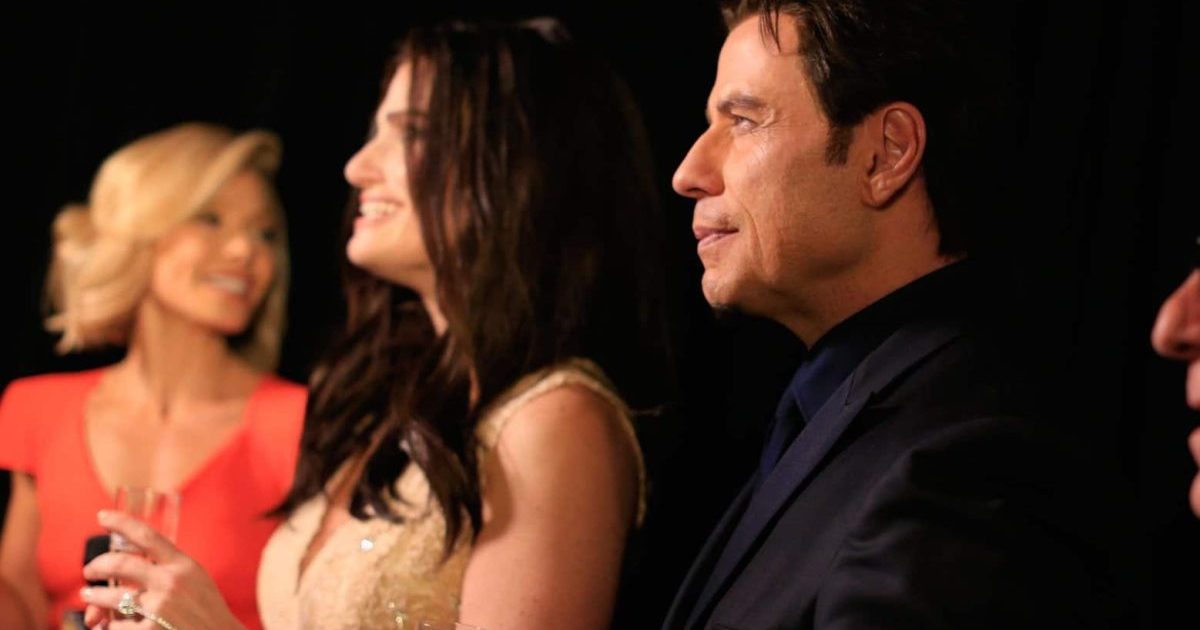 Photo by Christopher Polk/Getty Images
2013's Frozen was one of Disney's biggest hits ever, and you couldn't go anywhere without hearing everyone's new favourite song, Let It Go. It makes sense, then, that Idina Menzel would perform it at the Oscars. Imagine everyone's shock, then, when host John Travolta announced that it was "Adele Dazeem" performing! Travolta blamed the slip-up on a last-minute autocue change from 'Idina Menzel' to a phonetic spelling producers thought he'd have an easier time with. How wrong they were.
Madonna tumbles at the Brit Awards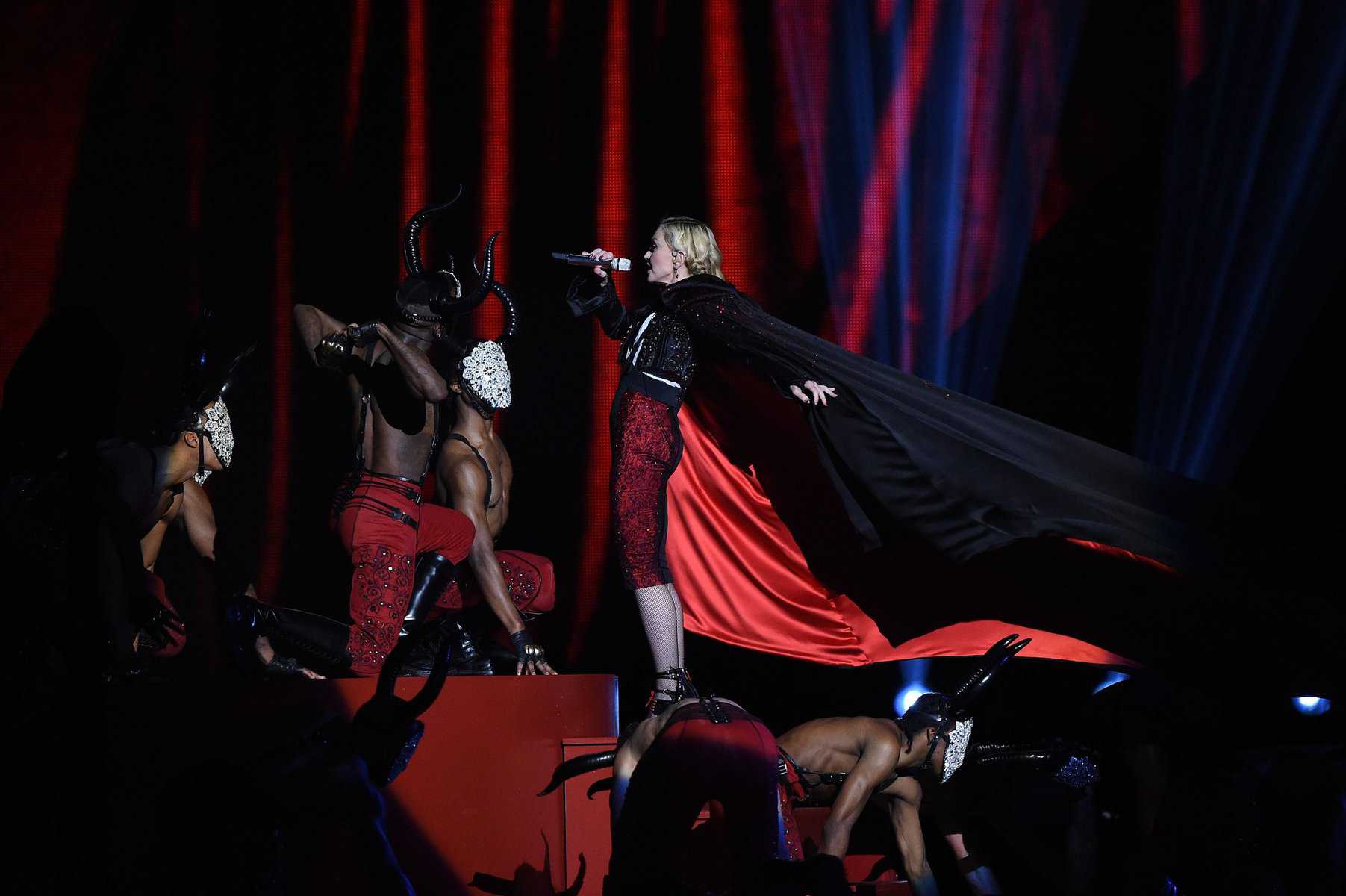 Photo by Gareth Cattermole/Getty Images
Madonna wore an incredibly dramatic cape when she performed at the Brit Awards in 2015. Though it looked pretty swanky, the pop star got the cape caught while mounting a set of stairs on the stage, causing her to be pulled backwards down the steps in the fall of the decade. She recovered shockingly well, but it is remembered as the most cringeworthy moment of the Brit Awards to date!
The wrong Miss Universe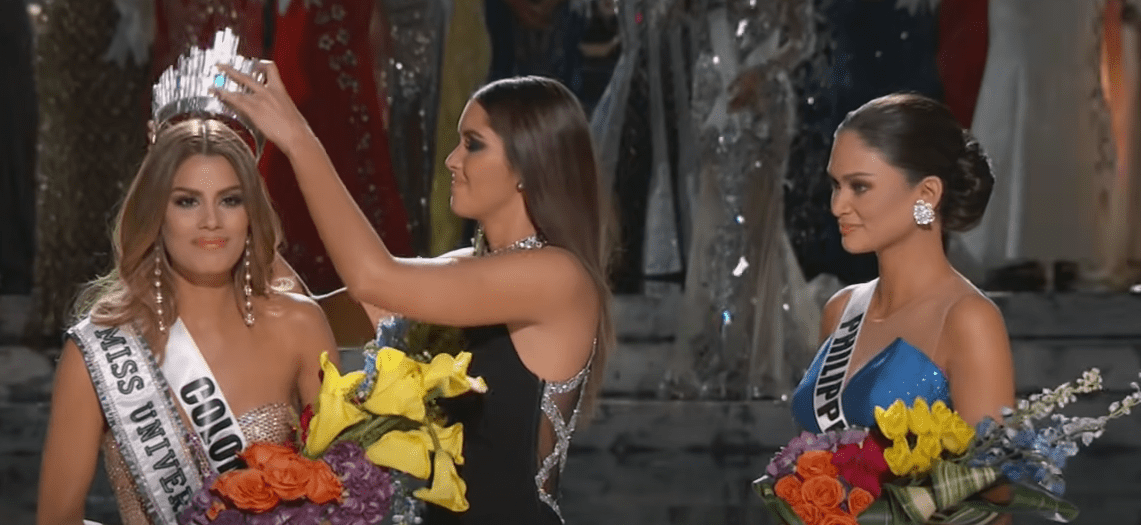 Miss Universe is a title any pageant queen would love to receive, and Miss Colombia really thought she had it in the bag when Steve Harvey announced her as the winner in 2015. However, there had been a mistake, and the true winner of the contest that year had been Miss Philippines. Poor Miss Colombia had to have the huge sparkly Miss Universe crown taken right off her head and placed on another woman's right there on stage. How humiliating!
"Miley, what's good?"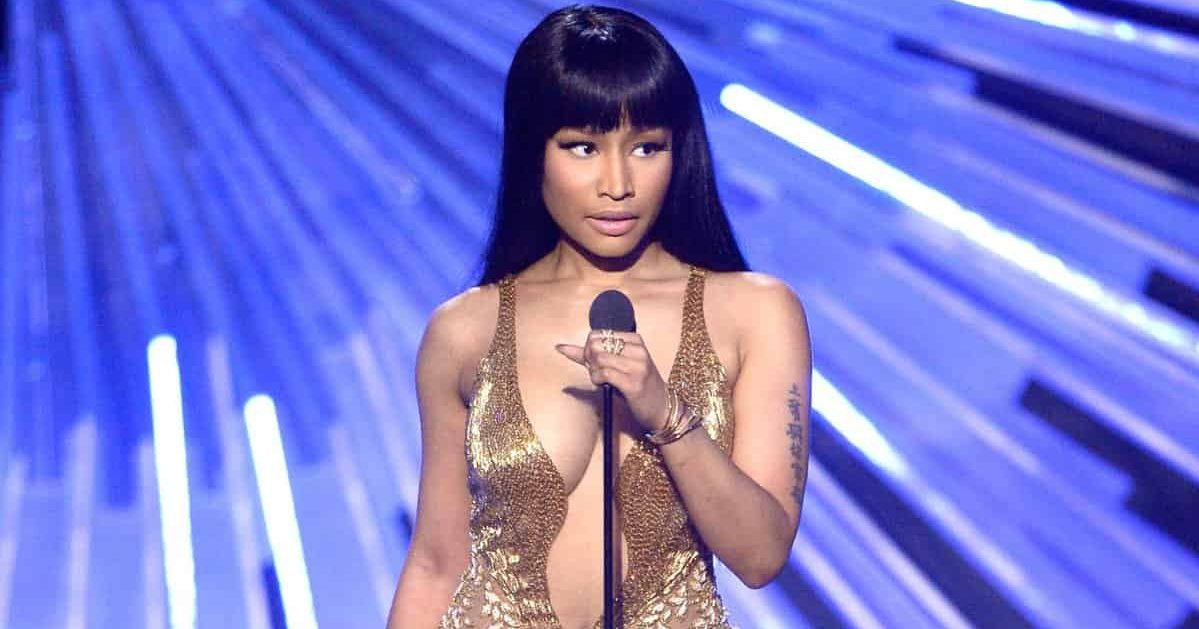 Photo by Kevork Djansezian/Getty Images
2015 was clearly a wild year for awards shows, since it was the same year that rapper Nicki Minaj called out VMAs host Miley Cyrus live on stage after winning an award. Cyrus had referred to Minaj as being "not too kind" in a New York Times interview, so Minaj did not hold back in response. "Back to this b**** that had a lot to say about me the other day in the press. Miley, what's good?" Miley Cyrus' awkwardness radiated right out of the screens watching across the world, such was the third-hand embarrassment!
Will Smith slaps Chris Rock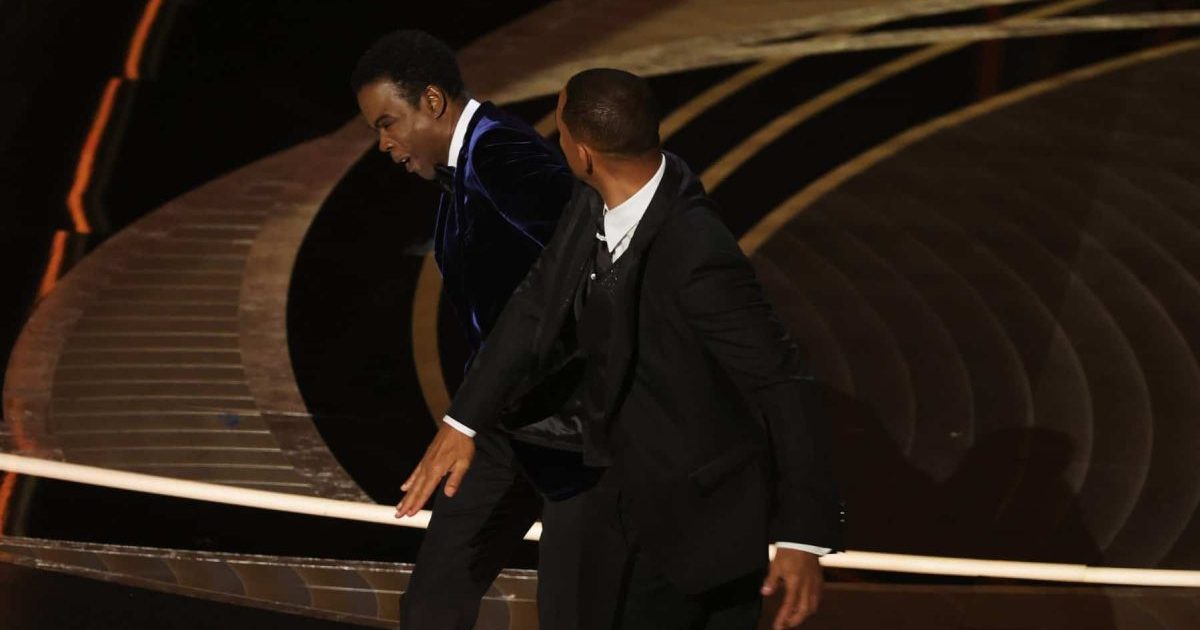 Photo by Neilson Barnard/Getty Images
The 2022 Oscars went a little wild when host Chris Rock made a joke about Jada Pinkett Smith's hair loss. Will Smith did not respond well to the remark, and actually walked right up across the stage just to slap Rock hard across the face. After also yelling at Rock to "keep [Jada's] name out [of his] f***ing mouth," Smith won a whole Oscar. People debated the incident for weeks after, and the memes were some of the most iconic of the whole year.
Beyoncé's bad backing track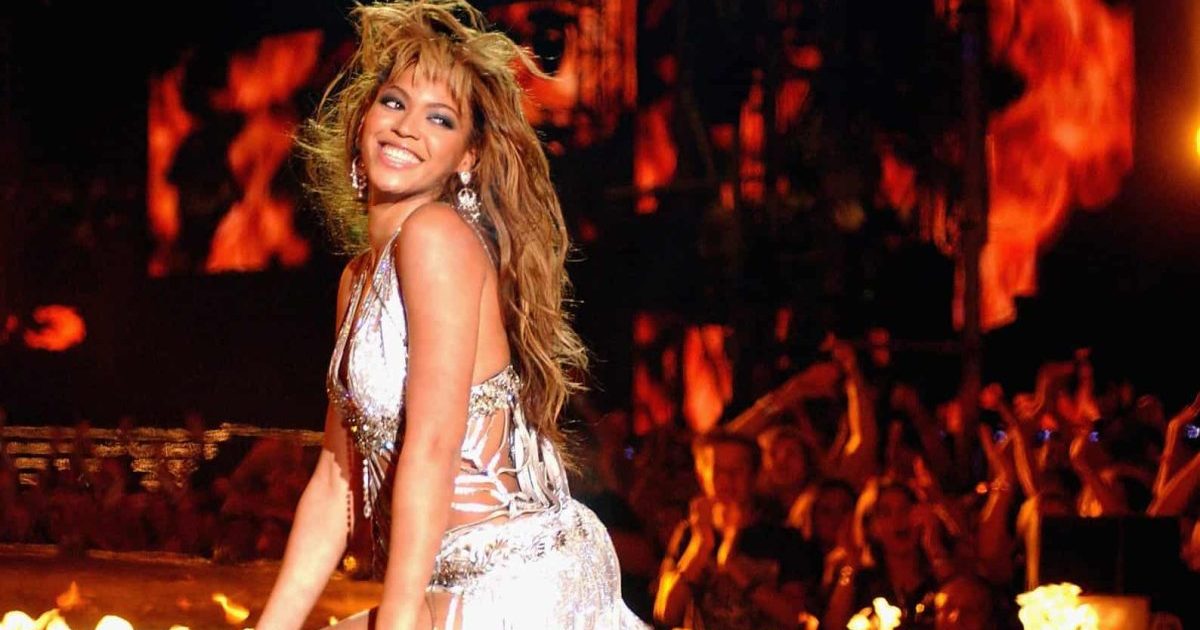 Photo by Frank Micelotta/Getty Images
Back in 2003, Beyoncé was all set to perform at the EMA's. She went ahead and started performing her hit song Baby Boy for a thrilled crowd, but the good things did not last. The backing track went a little wild on Bey and just kept repeating "Baby boy, you are so damn fine" over and over, glitching terribly. While Beyoncé can make nearly anything sound good, a backing track that bad is unsalvageable and the pop star ended up waving and leaving the stage early due to the malfunction.
Self-congratulatory Sam Smith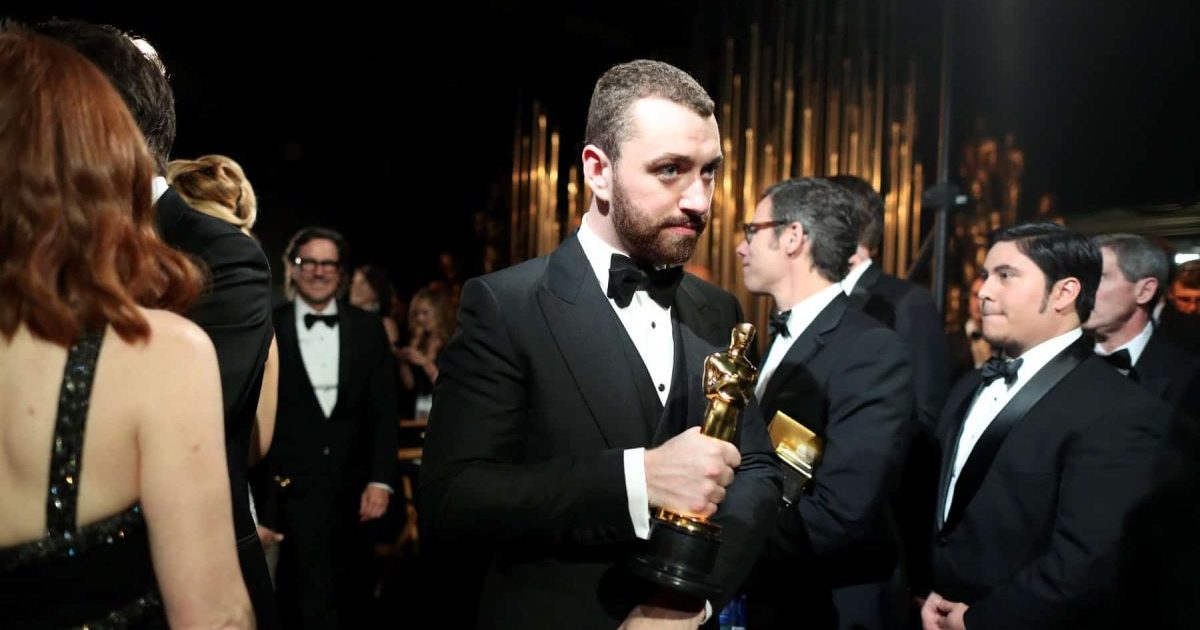 Photo by Christopher Polk/Getty Images
Sam Smith was the winner of the best original song award at the 2016 Oscars. When accepting the award, Smith managed to imply that they were the first openly gay man to win an Oscar. They claim to have been referencing an Ian McKellen quote, but the quote in question had actually been in response to a question in an interview about openly gay actors specifically. It was a pretty cringe inducing moment, considering all the gay actors and entertainers predating Smith who had not been able to be open with their sexuality. Not a great look!
Awkward Man at the Emmys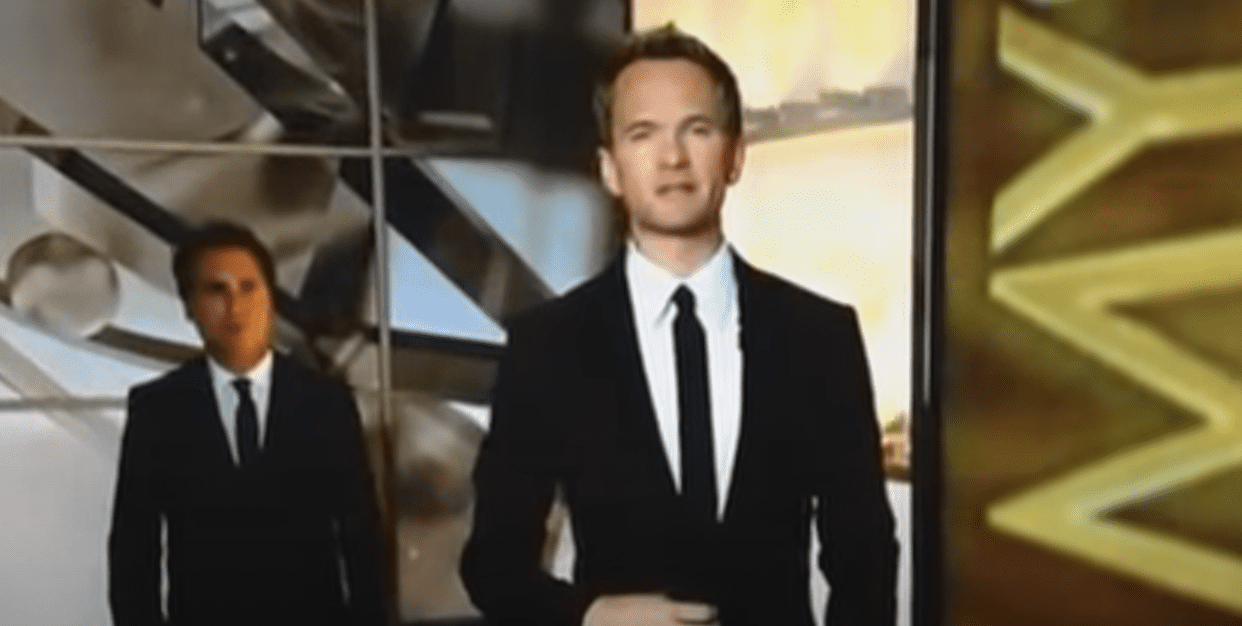 Neil Patrick Harris hosted the Emmys in 2013. He had not quite finished his lines before the ad break when a random man appeared behind him. The man seemed to know immediately that he wasn't supposed to be there, given his startled, embarrassed face. He slowly side-stepped until he was out of shot which only made the situation funnier to viewers. He was dubbed "Awkward Man" by the internet, but it turned out he was actually one of the writers for the awards show!
Lady Gaga Nudges Leonardo DiCaprio
When Lady Gaga dreamed of winning a Golden Globe for American Horror Story: Hotel, she probably didn't imagine she'd have to essentially man handle an A-lister blocking her route to the stage. But that's what happened when Leonardo DiCaprio remained seated during the singer's victory stride. After tucking him into his table, the Revenant star looked visibly embarrassed.
David Letterman's Oprah Winfrey Joke
David Letterman seemed like an obvious choice for the Oscars until you remembered his cynical style of comedy didn't fit the lofty atmosphere of the Academy Awards at all. "I've been dying to do something all day and I think maybe we can take care of this," Letterman said, locating Oprah Winfrey and Uma Thurman in their audience. "Oprah? Uma. Uma? Oprah. I feel much better. Have you kids met Keanu?" It didn't quite land.
Jennifer Lawrence Trips Up
Jennifer Lawrence's Dior gown faced a bit of damage when she tripped up the stairs while accepting the Oscar for her role in Silver Linings Playbook. "I was at the Oscars, waiting to hear if my name was called, and I kept thinking, Cakewalk, cakewalk, cakewalk. I thought, Why is 'cakewalk' stuck in my head?" she later told W magazine. "And then, as I started to walk up the stairs and the fabric from my dress tucked under my feet, I realised my stylist had told me, 'Kick, walk, kick, walk.' You are supposed to kick the dress out while you walk, and I totally forgot because I was thinking about cake! And that's why I fell."
Nicole Kidman's Seal Clapping
It's surprising how many celebrities don't know how to clap, isn't it? It bodes well for the conspiracy theorists out there who believe they're all lizards plotting against the poor. Nicole Kidman's excuse was that she didn't want to damage her expensive rings. "I was like gosh, I want to clap, I don't want to not be clapping," she said, "which would be worse, right? 'Why isn't Nicole clapping?'"
Britney Spears Messy Performance
The 2007 VMAs were about one thing and one thing only: the return of Britney Spears following her public breakdown earlier in the year. Sadly, the pop legend failed to convince viewers she had turned a new leaf thanks to a sloppilly lip-synced performance of Gimme More.
Taylor Swift Thinking She Won a Grammy
Everyone should practise their losing face. Even you Taylor Swift, despite your success rate being 99.9%. Back in 2014, she was seen jumping at the mention of the letter R, presuming Alicia Keys was shouting out the name of her album Red when she was actually about to say Random Access Memories.
Katy Perry Almost Decapitated By Green Gunk
The Nickelodeon Kids Choice Awards are quite silly! They're not like grown up award shows where everyone's talking about global issues and frowning. There are boxes of slime that shoot out into the faces of celebrities! In 2010, it was Katy Perry's turn and it hit her so hard she actually fell onto the floor.
Streaker at the 1974 Oscars
Typical. You get on stage at the Oscars to introduce the beautiful Elizabeth Taylor only to get a streaker instead. Presenter David Niven managed to brush this off however, quipping on the spot: "Isn't it fascinating to think that probably the only laugh that man will ever get in his life is by stripping off and showing his shortcomings?"
"We Saw Your Boobs!"
Seth MacFarlane loves a swingy musical number and they're usually controversial in content. But within the world of Family Guy, they make sense. At the Oscars? So out of place. We Saw Your Boobs listed the amount of actresses - most of whom were in attendance - who had gotten their baps out on film. The "annoyed" reactions from said actresses were pre-recorded, but it was still pretty awkward.
James Franco and Anne Hathaway as Oscar Hosts
James Franco is a Marmite actor. You either get his stoner, laid back, I-don't-really-care-about-Hollywood schtick, or it drives you up the wall. When he barely hosted the Oscars with Anne Hathaway in 2011, Franco was driving most people up the wall. Hathaway isn't exactly a gifted comedian herself, so it wasn't as if Franco could be saved.
Angelina Jolie Kisses Her Brother On Red Carpet
Angelina Jolie was in her kooky period circa 2000 and even the esteem of winning an Academy Award wasn't enough to sway her. Her date for the evening was brother James Haven and she treated him to a on-the-lips kiss. "It wasn't some odd open-mouthed kiss," she told People. "It was disappointing that something so beautiful and pure could be turned into a circus."
Adrien Brody Kisses Halle Berry
Another Oscar kiss, this time a bit less weird and yet more icky. Accepting his award for The Pianist, Brody impulsively grabbed Berry, who had presented him the award, and dove in for a big old kiss. "That was not planned. I knew nothing about it," Berry told Andy Cohen in 2017. "I was like, 'What the f*** is happening right now?'"
Judy Finnigan's Bra-haha
Thought wardrobe malfunctions began with Janet Jackson? Yeah? Try Judy Finnigan. At the National Television Awards in 2001, the British television presenter's dress popped open while accepting an award with husband Richard Madeley, exposing her bra. It stayed as such for a long, long time until someone ran on stage to fix it.
Michael Jackson Accepting a Fake Award
To celebrate the King of Pop's 44th birthday at the 2002 VMAs, Britney Spears presented Michael Jackson with a statue, declaring him "the artist of the millennium." Jackson took to the stage and gave a lengthy, heartfelt speech thanking the fans for granting him the accolade. What made this awkward was that no such award was actually being given to Jackson at the time. The confusion was later parodied by Jack Black and the following when he accepted the "super genius of the universe" award.
James Franco Silencing Tommy Wiseau
When James Franco won the Golden Globe for his portrayal of Tommy Wiseau in The Disaster Artist, a film about the making of Wiseau's cult classic The Room, he invited the man himself onto the stage. But as Wiseau stepped up to the mic, Franco joshingly pushed him aside, fearing the worst. Poor Tommy only wanted to encourage everybody to love each other, according to his post-Globes interview.
Natalie Portman Slates Globes
In 2018, Natalie Portman was chosen to present the nominees and award for Best Director at the Golden Globes with Ron Howard. While everything seemed to be going boringly normal, the Black Swan actor then introduced the contenders, saying: "Here are the all-male nominees." It was a bit of a shock to the system for Guillermo Del Toro who had to sit and take the first round of applause, though he later credited Portman for her statement.
Gwyneth Paltrow Wailing
Winning an award for anything is no doubt an emotional moment in a person's life, but not this emotional. Gwyneth Paltrow ushered in the era of acceptance speech hysterics with this 1999 ramble for her role in Shakespeare in Love. The actor herself says she never watches the speech back, and that's not even got anything to do with her thanking Harvey Weinstein.
Aubrey Plaza Invades Stage
At the 2013 MTV Movie Awards, Will Ferrell was awarded the very serious honour of Comedic Genius but it was almost snatched from him by an unlikely enemy: Aubrey Plaza. The actress quietly took to the stage to try and take the award from Ferrell's hands. She was promptly escorted off the stage and out of the venue for being drunk and disorderly.
Chris Isaak Forces Himself on Cameron Diaz
While presenting the award for Best Kiss at the 1995 MTV Movie Awards, Cameron Diaz found herself having to resist the sleazy desires of co-presenter Chris Isaak who moved earth and heaven to plant one of the The Mask actor, who quite clearly didn't want anything to do with it. The 90s!
Patrick Stewart and James Corden Argue
When James Corden hosted the 2008 Glamour Awards, he failed to win over a certain Patrick Stewart, who made it clear he didn't like the cut of Corden's gib while on stage with the comedian. The two exchanged insults, with the Star Trek legend making fun of Corden's weight at one point, before being urged to get on with it by the audience. The two later made up in a sketch for Corden's talk show in America.
Sacheen Littlefeather Booed
Marlon Brando had just delivered one of the most iconic performances in film history as Don Vito Corleone in The Godfather, but he didn't care. His interest was in highlighting the plight of the Native American, who had been chastised and parodied in Hollywood for decades. Brando sent Native American rights activist Sacheen Littlefeather to decline his Best Actor Oscar for this reason, and she was booed and heckled by the disgruntled, conservative audience.
We Like Sally Fields
Sally Field's career is forever tied with three words she likely never thought twice about when she first said them at the 1985 Oscars. Accepting the award for Best Actress for Places in the Heart, Fields said: "I can't deny the fact that you like me right now. You like me." It was refreshing example of an actor saying what they're actually thinking when winning an award.
Miley Cyrus Twerks on Robin Thicke
In 2013, someone over at the VMAs office said: "Do you know renowned creep Robin Thicke? What if we made him even creepier?" It turned out to be the worst/best pitch in the history of the awards. With the help of a rebellious, foam-fingered Miley Cyrus clad in a small skin-tone bikini, Thicke sang his infamous Blurred Lines and made audiences across the world projectile vomit.
Frank Capra's Walk of Shame
At the 6th Academy Awards in 1934, Will Rogers announced the winner of the Best Director award by saying, "Come up and get it, Frank!" Frank Capra, nominated for Lady for a Day, assumed he was being beckoned and began walking towards the stage. But the award was actually for Frank Lloyd and Cavalcade. Capra later described returning to his seat as "the longest, saddest, most shattering walk in my life."
Rashida Jones' "Tan"
Red carpet interviews are never really distinguished, heavily researched probes into the minds of actors. At the 2015 SAG awards, one reporter complimented Rashida Jones on her "tan." Jones, the daughter of white actress Peggy Lipton and African-American music producer Quincey Jones, clarified to the reporter, "Well, you know… I'm ethnic."
Ryan Seacrest Covered in "Ashes"
Ryan Seacrest is a very pedestrian interviewer. Nothing ever goes wrong in his celebrity encounters. Nothing ever goes right either. Nothing goes nothing. That's why seeing him getting dunked in the "ashes" of Kim Jong-il by Sacha Baron Cohen, in character as Admiral-General Haffaz Aladeen from his 2012 film The Dictator, was so shocking to see. (The North Korean dictator had died only a few months earlier.)
Adele Cut Off By Blur
Adele was thrilled when she won Album of the Year at the 2012 BRIT awards, and it appeared that she had a huge speech prepared to boot. Only one issue: Blur were due on stage to do a medley and time was running out. Host James Corden was subsequently tasked with cutting Adele's speech short, who was visibly cheesed off and ended up raising a middle finger to the suits.
Ving Rhames Gives Away His Award
Ving Rhames had a big case of imposter syndrome when he won the Golden Globe for Best Actor in a TV Movie for 1998's Don King: Only in America. He offered his award to fellow nominee Jack Lemmon (for 12 Angry Men) who tried to give it back, saying: "I wish I could accept this. And I can, but I won't." The Foreign Press ended up giving two statues, so both actors could take home the award. Well played, gents.
John Travolta Gets Handsy With Scar-Jo
John Travolta and award shows aren't the best mix, depending on whether you enjoy seeing famous people make fools of themselves. Here he is crashing Scarlett Johansson's red carpet moment with a sinister-looking kiss from behind in 2015. The actor was widely criticised for this seemingly predatory behaviour, but Johansson herself later defended him, saying "There is nothing strange, creepy or inappropriate about John Travolta."
Naomi Watts Almost Decks It
The 2015 SAG Awards almost went to pot when the climactic award, Outstanding Performance by a Cast, was presented to the cast of Birdman. Naomi Watts lost her footing walking past Emma Stone, whose long dress train nagged Watt's shoe. Thankfully, for the sake of the children watching at home, she managed to stay upright and avoid any nasty injuries.