Friends was easily one of the most popular sitcoms of the 90s. Audiences around the world fell in love with the Central Perk gang, whilst memorable storylines on the show included Ross and Rachel's will-they-won't they romance to Monica and Chandler tying the knot.



The show's finale aired on May 6th 2004 and was watched by 52.5 million American viewers, making it one of the most-watched finales in TV history.
[rtk_adunit_top]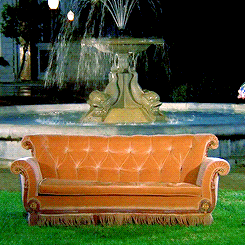 The producers of the show, Kauffman and Crane, began developing Friends under the title Insomnia Cafe between November and December 1993. They presented the idea to Bright, and together they pitched a seven-page treatment of the show to NBC. After several script rewrites and changes, including a title change to Six of One, and, Friends Like Us, the series was finally named Friends.
[rtk_adunit_middle]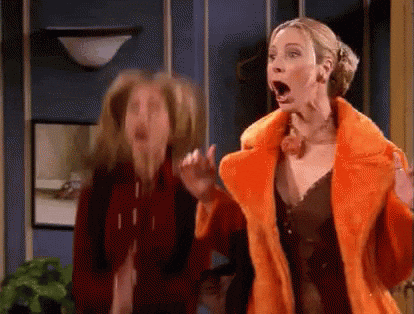 The show's success meant that the cast members became some of the most recognisable faces of the 90s, and like all good celebrities, they had a habit of dating other well-known stars.
Check out the list below to find out some of the real life partners of the Friends cast!
[rtk_adunit_bottom]
1. Jennifer Aniston & Vince Vaughn
Jennifer Aniston has a long history of dating fellow celebrities, and one of her most high-profile romances was with fellow Hollywood actor Vince Vaughn, best-known for starring in hit comedies such as Wedding Crashers (2005) and Swingers (1996).
Jen and Vince were an item from June 2005 to December 2006. The actor stated afterwards that he hated the paparazzi following him and his ex everywhere.
Did you know Aniston's best friend is her Friends co-star Courteney Cox and she is of Greek origin?
[rtk_adunit_top]
*
2. Jennifer Aniston & John Mayer
Jen also had a lengthy relationship with popular singer-songwriter John Mayer.
They dated from April 2008 to March 2009 but unfortunately it seems the relationship didn't end amicably! Rumour has it that Jen still can't stand her ex and previous run-ins between the pair have been extremely frosty…
We think it's always nice to try and stay amicable with your exes.
[rtk_adunit_middle]
*
3. Jennifer Aniston & Brad Pitt
Jen and Brad were one of the power couples of the late 90s/2000s. They got together in March 1998 and eventually married on 29th July 2000. During their relationship, Brad even starred in an episode of Friends as Monica's high-school buddy Will, who hated Jen's character Rachel in the show! Unfortunately, they famously divorced in March 2005.
[rtk_adunit_bottom]
*
4. Courteney Cox & Michael Keaton
Like best friend Jennifer, Courteney Cox is no stranger to dating fellow celebrities. One of her earliest boyfriends was Michael Keaton, a star in his own right thanks to memorable performances in Beetlejuice (1988) and Batman (1989). The couple split in 1995 after six years together, with Cox later calling it 'one of the most important relationships I've ever had'.
[rtk_adunit_top]
*
5. Courteney Cox & David Arquette
Courteney and fellow actor David were together for two years before getting married on 12th June 1999. They separated ten years later before finally divorcing in May 2013. During that time they had a child together, Coco Riley, and starred in the Scream franchise together. Their split turned sour when David publicly discussed his sex life with his ex-wife Cox.
[rtk_adunit_middle]
*
6. Courteney Cox & Johnny McDaid
The Friends star and her Snow Patrol boyfriend Johnny McDaid originally got engaged in 2014, before splitting two years later. Location was a big issue – McDaid wanted to return to his native Northern Ireland whilst Cox was keen to stay in California. However, they've now reconciled and it's even rumoured that a wedding is on the cards this year!
[rtk_adunit_bottom]
*
7. Matthew Perry & Lauren Graham
Matthew Perry's hilarious portrayal of Chandler was always a fan favourite and it seems that attention won him a lot of luck with the ladies! Perry actually dated Lauren Graham, who is probably best known for her role as Lorelai Gilmore on the The WB'S Gilmore Girls. The showbiz pair dated in 2003 but sadly couldn't make things work. However, the relationship must not have ended too badly as Graham later guest-starred in two of Perry's TV shows.
[rtk_adunit_top]
*
8. Matthew Perry & Heather Graham
Maybe it's something to do with the surname, but Perry also allegedly had a brief fling with famous film actress Heather Graham. Graham is best known for her starring roles in Boogie Nights (1997) and The Hangover (2009). It's rumoured that the pair briefly got together in 2003, but it doesn't seem that a fully-fledged relationship was meant to be.
[rtk_adunit_middle]
*
9. Matthew Perry & Lizzy Caplan
Perry also dated another famous brunette in the form of Mean Girls (2004) and Masters of Sex star Lizzy Caplan for over six years from 2006 to 2012. Apparently the cause of their split was down to Perry's reluctance to get married. She was very rarely photographed with Matthew, 44. One of the few times they were seen together was in September 2011 while taking in a US Open tennis match at Flushing Meadows in New York.
[rtk_adunit_bottom]
*
10. Matt Le Blanc & Missy McKnight
Joey was a shameless womaniser on Friends – who can forget the famous quote 'How you doin?' and its effect on the opposite sex? Le Blanc has certainly had his own string of romances over the years. He and Missy McKnight were married on 3rd May 2003 after dating for only 2 days! They later divorced on 6th October 2006.
[rtk_adunit_top]
*
11. Matt Le Blanc & Andrea Anders
After his short-lived marriage, Le Blanc had a much longer relationship with his Joey co-star Andrea Anders. They dated from December 2005 to October 2014 before confirming that they had decided to part ways. Rumours later swirled that Le Blanc's flirtatious behaviour may have been the cause of the split, but this was quickly put to rest by his agent.
[rtk_adunit_middle]
*
12. Lisa Kudrow & Conan O'Brien
Lisa briefly dated the famous chat-show host Conan O'Brien shortly before her starring role as Phoebe on the hit TV show. Whilst the pair never managed to make it work as a couple, they decided to remain…that's right, friends. Since then, Kudrow has appeared on Conan's chat show several times to discuss current TV and film projects with her ex-flame.
[rtk_adunit_bottom]
*
13. Lisa Kudrow & Michel Stern
Kudrow has been married to French advertising executive Michel Stern for over 23 years. They first got engaged in 1994 before marrying on 27th May 1995, during her growing Friends fame. Kudrow is now fluent in French herself and has previously admitted that she had a huge crush on her future husband when he was dating a friend of hers!
[rtk_adunit_top]
*
14. David Schwimmer & Natalie Imbruglia
David Schwimmer famously played the sensitive and slightly-geeky Ross on Friends. Whilst his on-screen relationship with Rachel was always turbulent, in real life he's managed to successfully charm some famous faces, including Aussie singer Natalie Imbruglia. The pair dated for a year during Friends from 1995 to 1996, and Natalie later stated that she remembered it as 'a happy relationship'.
[rtk_adunit_middle]
*
15. David Schwimmer & Zoe Buckman
David later went on to date Zoe Buckman, a British artist and photographer. They were together for three years before getting engaged in 2010. The pair married on 4th June 2010, but decided to separate seven years later in April 2017. Schwimmer is notoriously private about his love life and it's unclear whether the pair are officially divorced or not.
[rtk_adunit_bottom]
Now we've looked at the main cast, what about some of the other Friends cast members? From regular fan favourites such as Gunther and Janice, to one-off stars like Clooney and Pitt, we find out who some of the supporting cast members have been dating…
[rtk_adunit_top]
*
16. Bruce Willis & Demi Moore
Bruce made a memorable appearance on the show as Rachel's attractive older boyfriend Paul Stevens. He starred in a hilarious three-episode story arc that also saw him play father to Ross's college-age girlfriend Elizabeth. In real life, Willis was famously married to the highest paid actress of the 90s, Demi Moore, before they went through a messy divorce in 1998.
[rtk_adunit_middle]
*
17. Brad Pitt & Angelina Jolie
Brad's appearance on Friends came in 2001 when he was still married to Jen. Unfortunately, their marriage famously came to an end after his head was turned by co-star Angelina Jolie during the filming of Mr and Mrs Smith in 2004. The pair stayed together for many years and eventually married in 2014 before announcing their divorce in September 2016.
[rtk_adunit_bottom]
*
18. James Michael Tyler & Barbara Tyler
James Michael Tyler's character Gunther was famously head over heels for Rachel, but sadly his love always remained unrequited. Fortunately, in real life things went a little more smoothly for Tyler than his on-screen counterpart at Central Perk. He married his wife Barbara during the filming of Friends in 1995. The pair remained together until divorcing in 2014.
[rtk_adunit_top]
*
19. Maggie Wheeler & Daniel Wheeler
Fans began to lose count of the number of times Chandler got back together with his irritating, nasal ex-girlfriend Janice, often before quickly deciding to jump ship again. Thankfully Maggie Wheeler's life hasn't mirrored art – she's been married to husband Daniel for 28 years. Oh…my…god! During that time she starred in 90s favourite The Parent Trap (1998) and Archer.
[rtk_adunit_middle]
*
20. George Clooney & Amal Clooney
George Clooney made an early but memorable appearance on Friends, spoofing his breakout role as Dr. Doug Ross on ER. Since then Clooney has gone on to become one of the world's biggest film stars, appearing in hits such as Ocean's Eleven (2001). He married the British human rights lawyer Amal Clooney in 2014 and recently became father to twins.
[rtk_adunit_bottom]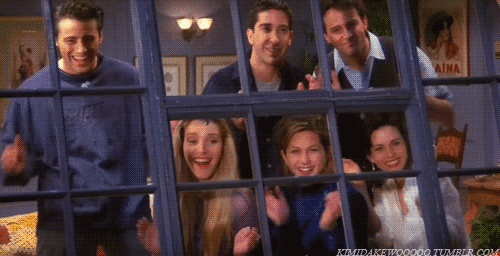 *