In the UK, mini golf is normally one of those things you get forced into playing with your kids at Center Parcs, but it seems as though the rest of the world might have gone crazy (golf) for the activity. Courses in America, Thailand and New Zealand have some of the most quirky and elaborate mini golf set-ups in the world, so we've brought you a definitive list of the top 10 craziest mini golf courses on Earth!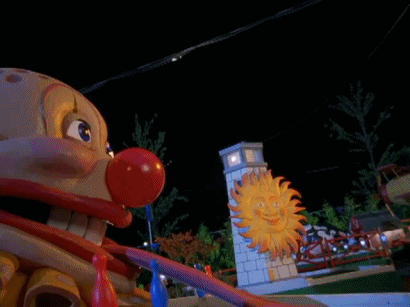 10. Around The World In 18 Holes, Lake George, NY
Around The World In 18 Holes gets points for its epic golf course and its name. Located in Lake George, New York, the resort consists of two different courses – Around The World and Around The USA – with different holes designed to represent different countries and states, so you can brush up on your geography whilst having barrels of mini-golfing fun. Some of the course highlights include a giant Native American statue and a colossal axe-wielding lumberjack, as well as a mini replica of the historic Tower Bridge in London.
9. Dino Park, Thailand
Have you got dino fever?? Well this mini golf course in Phuket is the remedy you've been looking for. Thailand's Dino Park is a slightly surreal but still very cool collection of giant dinosaur replicas, so you can pretend you're walking through your very own Jurassic Park (with golf clubs handy to fight off any rogue raptors). The course is covered in jungle flora and contains a 40 foot waterfall, moving T. Rex model, lava cave and even a Flintstones-style caddy car. Built in 2007, this mini golf dino adventure has proved a firm favourite with locals and tourists alike.
8. Lexington Ice Center, Kentucky
A Bible-themed mini golf course complete with a landscaped Garden of Eden? We wouldn't expect anything less from the Southern US, but you don't have to be religious to enjoy this wacky foray into the world of Christianity. Players can actually choose between three courses – the Old Testament, New Testament or the 'Miracles' course, which might be the best option for anyone who isn't too handy with a golf club. Course highlights include a Jonah and the Whale-themed hole, Mount Sinai and even the River of Blood. Lexington Ice Center is still going strong since 1988 and we can see why – it might even be a good recruiting tool for Christianity.
7. Pirate Island Golf, New Jersey
Pirate Island Golf has three locations dotted around the Jersey shore, and currently holds a string of awards for its highly complex course design. You can golf your way through a giant replica wooden pirate ship, waterfalls and even animated pirates. There are also the more standard mini golf hazards, particularly crevices, humps and water hazards too. The small chain was founded by Pat Croce and Mark Benevento in 1994 and the pair now own several other pirate-themed entertainment venues.
6. Glowing Greens, Portland, Oregon
'Glowing Greens' does exactly what it says on the tin! Located in Portland, Oregon, the course glows in neon colours within a giant black-lit room. There is a definite island theme to the course which contains tons of ultraviolet artwork and creepy 3D skeletons designed to scare you back into concentrating on the golf. It might take a while to adjust once you step into the course for the first time, but the level of detail and crazy artwork will soon make you feel as though you're golfing in the depths of the jungle. There's even an option to purchase 3D glasses and take the course to the next level!
5. Lumberjack Pass Miniature Golf, Lake George, NY
The secret of the Lumberjack Pass Miniature Golf Courses's appeal lies in its location above all else. It might not have some of the elaborate mechanical obstacles of other courses on this list, but the natural splendour of Lake George always manages to attract a steady stream of crowds to the resort. It's probably the closest thing that mini golf has to a full-scale golf course, with the backdrop of the Adirondack region and flowing streams, waterfalls and real sand bunkers. The Lumberjack Pass is an acre in size, making it one of the largest mini golf courses on this list.
4. Adventure Golf, New Zealand
We're not sure why pirates and mini golf always seem to go hand in hand, but with a course like this – who cares?! The Original Adventure Golf Company was first established in 1997 and currently owns three pirate-themed courses in Christchurch, Auckland and Wellington. Like other pirate courses the designers have included life-sized pirate ships, huge waterfalls and some top-notch landscaping.
3. Par King Skill Golf, Lincolnshire, IL
This admittedly gaudy miniature golf course is affectionately known as the 'Taj Mahal' of mini golf offerings and is located in Lincolnshire, Illinois. There are two 18-hole courses to choose from and a vast array of challenging obstacles to get through which feature armoured knights, carousel horses and even mini versions of the Statue of Liberty and Mount Rushmore. One of the course favourites is a 9ft-tall roller coaster hole, which you really do have to be a Par King to defeat. Plus, if you beat the roulette wheel on the last hole, you can win a free game!
2. Putting Edge Fun Centers, across North America
Putting Edge is another neon offering – groovy, baby! The centres are located in 18 locations across Canada and the US; the first resort opened in 1995 and now there are centres in Brampton, Ontario and cool themes including an Aztec and Under The Sea hole. The high-tempo music will urge you on to greater things in the development of your mini golf – the estimated start-up cost of a Putting Edge fun Center is between $350-450,000.
1. Mayday Golf, South Carolina
This is quite possibly the most original mini golf concept of all time! The Mayday Golf resort is a scenario golfing experience, in which you and your friends are travelling on a plane for a golfing holiday when the plane crashes on a tropical island and the only things to survive are you and your golf equipment. Built in 1997, the idea was inspired by two of the board members who hold pilot's licenses and had clearly always dreamed of crash-landing in a jungle they had to mini golf their way around. One of the most famous holes is called Rescue Falls, which features a waterfall, flowing river and rescue helicopter. The Mayday Gold course recently won The Travel Channel's best survival course in mini golf, so it comes in at top our list today.